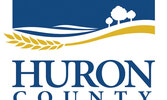 Goderich airport report proves controversial at county
BY SHAWN LOUGHLIN
Huron County Council accepted a report on the creation of a strategic plan for the Goderich Airport at its Oct. 20 meeting, but even that step proved controversial, winning the vote by the slimmest of margins.

The Huron County Economic Development Board presented the report, which it commissioned months ago with the blessing of council for a total cost of $60,000. However, several councillors were very down on the county getting involved in the rehabilitation and management of the airport and voted against the motion to accept the report, feeling that by even accepting the report for information, the county was demonstrating its support for the project.

In a recorded vote, the motion to receive the report passed, with eight councillors voting in favour and seven voting against it. Warden Glen McNeil and Councillors Bernie MacLellan, Myles Murdock, Jim Ginn, John Grace, Roger Watt, Dave Jewitt and Jim Fergusson voted to accept the report, while Councillors Paul Klopp, Bernie Bailey, Jamie Heffer, Bob Fisher, Jim Dietrich, Doug Harding and George Finch voted against it.

John Marshall and Brad Chandler from the Economic Development Board and Taylor Lambert of the Goderich Airport Task Force made the presentation alongside Ben Crooks of Ottawa-based HM Aero Aviation Consultants. The proposal would support the airport as a joint venture between the Town of Goderich, the Township of Ashfield-Colborne-Wawanosh and Huron County for the benefit of the entire county.

Crooks began his presentation by detailing the community value associated with the airport, saying that approximately 200 respondents to the firm's survey listed the airport as being either "important" or "very important" to them, while over 40 people said it was "moderately important", compared to just over 20 people saying it was not very important and under 20 saying it was unimportant.

Current airport benefits, he said, are both social and economic. Social benefits include air ambulance access (including an average of 25 Ornge missions per year, as well as critical care and time-sensitive missions), use by the air force (in supporting over-water search and rescue missions and training with the Coast Guard), serving as a refueling station for the Coast Guard and overland search and rescue for the Ontario Provincial Police, as well as tangible and historic benefits and intangible and future-oriented ones.

Crooks said that current economic benefits include flight training from schools throughout southern Ontario, corporate and business aviation, aerial tourism and guest and tourist access into the region from both chartered and private aircraft.

As part of his research, Crooks also outlined a number of future airport opportunities and benefits, including aerial tourism, corporate and charter air services to support key regional employers, flight training, aviation service businesses and more. The benefits, he said, would be the generation of additional revenue, more use of the airport, a continued social role for the airport within the community and direct and indirect benefits, including employment, labour earnings, etc.

Crooks included information from similar-sized airports in Stratford, Tillsonburg and Barrie that boast 27, 30 and 100 full-time equivalent positions, respectively, as well as economic activity of $3.3 million in Stratford and labour earnings of $960,000 in Tillsonburg and $8 million in Barrie at the Barrie Lake Simcoe Regional Airport.

Over the next 20 years, Crooks estimated that it would cost $10.3 million for rehabilitation and preservation projects in order to rehabilitate existing assets and preserve the core functions and level of service at the airport. During that same time period, he said $2.2 million would be needed for infrastructure expansion and growth.

Moving forward, Crooks said, he proposed the formation of an intermunicipal airport commission, formed as a joint municipal services board or a municipal services corporation as well as a proportional split when it comes to decision-making, capital funds and the operating deficit between the three partners.

He suggested concentrating on the airport's existing strengths and associated industries for short-term success, while at the same time pursuing larger opportunities. He also suggested working collaboratively with Huron County's economic development department for high-effort pursuits, as well as the Goderich Economic Development Committee and Huron County Economic Development Board. He also emphasized the airport's unique selling points.

Howick Reeve Doug Harding was the first to voice his concerns, specifically with the proposed maintenance schedule. Crooks said it was a reality of maintaining infrastructure that assets degrade over time and need to be repaired or replaced.

North Huron Reeve Bernie Bailey made note of a number of airports in Huron County that are privately owned. Not only would the county then be competing with them, he said, but it would open the county up to large costs moving forward, whether it be capital or operational.

He then drew a comparison to council haggling over costs associated with improving troubled intersections, saying that councillors have cried poor when it comes to those, so the county shouldn't then have money to maintain an airport that needs plenty of work.

South Huron Mayor George Finch said he was against the project, calling it a "money pit" and suggesting that the county shouldn't be competing with other area private airports that have shown to be profitable and able and willing to handle increased capacity.

Central Huron Mayor Jim Ginn disagreed, however, saying that he wasn't one of the county's foremost businessmen, but that the Huron County Economic Development Board is full of them and they have identified the airport as being an important asset moving forward. He would be inclined to listen to them on such an issue, he said.

Council then voted on receiving the report, with that motion passing with eight votes in favour and seven votes against.