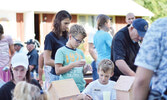 Goderich Lions welcome Ukranian families to Huron County
More than 90 people gathered at Camp Klahanie, just south of Goderich, last week to welcome Ukrainian families who have moved to Huron County.

Since April, at least 12 Ukrainian families have moved to Huron County, many of them hosted by local residents in their homes.
"We were thrilled to see Ukrainians connect with one another and to see children play with each other, even though many of them have never met before," said Don Edward, president of the Goderich Lions.

Recent Ukrainian arrivals, host families, and their supporters attended the barbecue, hosted by the Goderich Lions and the Huron County Immigration Partnership. Children painted bird houses, created by a long-time Lions Club member, over the course of the day, which also included a hike led by a Maitland Valley Conservation Authority staff member.

Local dignitaries, including Huron County Warden Glen McNeil, Goderich Deputy-Mayor Myles Murdock and Central Huron Mayor Jim Ginn also welcomed the Ukrainians and their supporters at the event.

"It's important everyone feels like they belong and have support. Ukrainians and other newcomers to Canada can get support from YMCA settlement workers, take English language classes and get help searching for work from the Centres for Employment and Learning," said Mark Nonkes, communication officer with the Huron County Immigration Partnership.
"We were so delighted by this event. The Goderich Lions hope to be able to hold similar events at Camp Klahanie in the future, in support of all newcomers to our community," Edward said.

Local fundraising efforts to support newcomers from Ukraine are currently underway and being led by the Goderich Lions.
"We hope to step up efforts," said John Maaskant, chair of a newcomer fundraising committee. "We want to make sure there is money available for newcomers to Huron County to address gaps after all other resources are exhausted."
More details about the committee's work should be announced later this month.