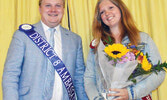 Haanstra looking forward to serving as Brussels Fall Fair Ambassador
BY SHAWN LOUGHLIN
Deanna Haanstra says she's happy to be taking up the mantle of Brussels Fall Fair Ambassador and looking forward to the year ahead.

The 16-year-old lives in Morris-Turnberry, just outside of Wingham, on her family's dairy farm. She is a student at F.E. Madill School in Wingham, where she'll be entering Grade 12 this fall.
Right now, she's spending the summer working at Camp Kintail, her first year doing so.

She said she wanted to get involved in the Ambassador competition to be more active in the community and to learn a number of useful skills for the future, such as public speaking.

Haanstra was named the 2022/2023 Brussels Fall Fair Ambassador at a special event held at the Brussels Legion on July 17. She didn't compete against any other contestants, but the event represented a passing of the torch and provided an opportunity for Haanstra to connect with past Ambassadors, members of the Brussels Agricultural Society and the Brussels community at large.
She said she really appreciated the event and the opportunity to meet with and talk to past Ambassadors. She said she plans to follow up with them and learn more as the year goes on.

In addition, Haanstra is hoping to really connect with the Brussels community ahead of the fair and aims to be part of the Brussels 150th Homecoming celebration this weekend. This all leads to the Brussels Fall Fair this September and then parade appearances later this year as well.

As far as Haanstra's personal life is concerned, she is looking ahead to post-secondary education very soon, but she hasn't quite decided on a potential career path just yet. She does hope to work in the agricultural field, applying her time growing up on a farm to the rest of her life.

The 159th Brussels Fall Fair is set for Sept. 13-14 with the theme of "Twist and Sprout". It will be held at the Four Winds Barn.
More information on the fair and the full fair book is available online at brusselsfallfair.ca.