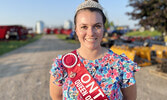 HCPM23: Busy weeks ahead for Klaver as provincial reign winds down
BY SCOTT STEPHENSON
Besides the practical skills gained from learning to work the fields, plowing matches help rural young people develop a sense of community and essential leadership abilities. These two complementary skill sets are perhaps most clearly illustrated through the Queen of the Furrow competition, in which interested daughters of Huron County come together to compete against each other in a balanced contest of physical and mental prowess. Each year, the county winners who excel, move on to the provincial level for a chance to become the Ontario Queen and inspire an even larger group of young people.

Maranda Klaver is the latest Ontario Queen of the Furrow and, after an unusual, pandemic-extended, three-year reign as our local representative, she is getting ready to see the current Huron County Queen, Luanne McGregor, pass the crown to a new rural regent. Klaver knows what it takes to use a gentle hand to rule the land, and has the internal generosity needed to share her secrets with up-and-coming young furrow fans who hope to find success in the fields.

"You start off in your local county and I was lucky enough to represent Huron County way back in 2019… I also had to interview with a panel of three judges, and discuss things like farming, my community, the plowing match, myself, my career and my future… we also got to plow a section of land, which was a lot of fun," she said. "We also had to answer an on-stage impromptu question, which is very similar to an interview question but you just don't know what is going to be asked and you're on the stage in front of everyone."

When asked about the issues she cares about the most, Klaver chose to talk about the mental health of farmers. It is a cause that, historically, has largely been neglected by both the mental health industry and rural communities. The image of the stoic farmer is one that denies the extreme physical and mental strain that can fester unnoticed in one of our nation's most essential and punishing industries. Klaver believes that needs to change. "I thought it was a really important subject before COVID happened and then obviously COVID happened and it really elevated the subject, which, in some ways, was great, because we need to end the stigma around it," she said. "But post-pandemic, it's still the elephant in the room," she lamented.
"I was the successful candidate back in 2019, and I got to represent Huron County and then I got to go to the International Plowing Match, and repeat all those same steps."

While competing at the Ontario level, Klaver chose to stick with a subject that matters to her: mental health support for rural farmers. Her passion impressed the judges. "I was fortunate enough to capture the Ontario title," she said.

So what does the position of Huron County Queen of the Furrow mean to Klaver? "It's meant to create a role model for women in agriculture, and for your county, and to promote the plowing match. It's something I've always looked up to, since I was a kid. My older sister Samantha actually got into it and that's kind of how I got into it - I just thought it was really cool. I come from a farming family with five girls and no brothers, and to see that representation. I want to be that role model for young women in agriculture, which is traditionally a male-dominated industry."

Being Queen has certainly created changes in Klaver's life. "I'm definitely very busy," she laughed. "I get to go to events all across the province… there's usually three or four events in a month. But in August I think I'll be at more Queen events than I will be working, but that's alright. Really, that's what it's all about - it's all about networking and travelling to support the plowing match. I'm very excited… it really has been the opportunity of a lifetime."

When Klaver is not busy with her royal duties, she works as a Financial Protection Programs Specialist for Agricorp. Her reign as Queen is coming to an end, but there are still many exciting experiences for her to have before she passes the torch. "September is when the big show is: the International Plowing Match in Dufferin County. Since I've been on the move for so long, it hasn't really sunk in yet that things will change. I've been Queen for four whole years… all good things must come to an end, but keep the good things coming, you know?"

To find out who's going to be the next Huron County Queen of the Furrow, come to the competition at the Huron County Plowing Match on Aug. 18 and witness the crowning ceremony at the awards banquet.