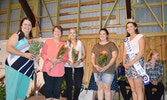 HCPM23: McGavin looks back on a half-century of Queen of the Furrow competitions
BY SHAWN LOUGHLIN
Reflecting on about 50 years of involvement with the Huron County Queen of the Furrow competition, Marie McGavin estimates that she's recruited hundreds of young women to put their names forward and vie for the crown.

Thinking back to when she first got involved, figuring it was when her and Neil's sons Brian and Jeff were young, McGavin thinks it was the 1970s that she first began to work her magic with the Huron County Queen of the Furrow competition.

McGavin saw the competition (not even necessarily winning it, but just taking part) as an opportunity for young women in the community to engage in public speaking and an interview process, both of which would improve their communication skills.
In fact, McGavin relayed a story about a recent encounter with a former contestant who is now in her 50s. She told McGavin that she still remembers advice she gave her back then to be confident and look her job interviewer in the eye. She had recently obtained a new job and chalked it up to that. McGavin thought that was a good example of the competition instilling skills in young women that will be remembered and continue to be useful for generations.

Over the years, Huron County has had robust participation in its Queen of the Furrow competition, usually attracting at least five or six contestants each year, compared to some counties that consistently struggle to bring out one or two people.
She remembers taking a step back when her daughter wanted to try her hand at winning the crown. That's when Helen Craig and Ruth Townsend became involved and they would remain involved for decades, though McGavin remembers those women doing the same later on, taking a step back when their daughters wanted to get involved.

Thinking back to the number of young women McGavin has brought into the program and seeing them mature, grow and develop their own families and careers over the years has made her well up with pride. She says she can see the impact the competitions have had on their lives and she has seen it over and over again.

She says that has always been the case when a young woman from Huron County has gone all the way and won the Ontario Queen of the Furrow crown. The county is lucky, McGavin said, to have representatives like current Ontario Queen of the Furrow Maranda Klaver and others to represent it.

Speaking of Klaver specifically, McGavin said Klaver has really taken the position of Ontario Queen of the Furrow to a new place with a firm focus on the work and importance of women in agriculture and what a big part of the agricultural puzzle the women of the community are.

Looking back, as part of what really is the First Family of Plowing in Ontario (if not Canada), McGavin says she is a "proud Grandma" when it comes to the impact of her family. Gordon McGavin, Neil's father, of course, was a champion plowman and coach, as well as a major mover and shaker behind the scenes with the Ontario Plowmen's Association, all the way to plowing champions like Brian and Jeff and grandchildren who have become champions, like Jacob and Brandon McGavin.

This year's Queen of the Furrow competition begins at 1 p.m. on Friday, Aug. 18 with the speeches, followed by the contestants heading out to the fields to plow. The winner will then be crowned that night as part of the awards gala at the match site.