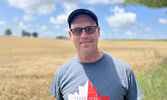 HCPM23: Soil and Crop Improvement Association to be featured at match
BY SCOTT STEPHENSON
Good farming, good fields and good food all depend on the same thing - good soil. The 95th annual Huron County Plowing Match (HCPM) takes place Aug. 17-18, and Vice-President of the Huron County Soil and Crop Improvement Association (HCSCIA) Peter Nonkes was kind enough to take the time to walk The Citizen through the bare essentials of modern soil conservation techniques in the days leading up to the big match.

"We promote soil conservation, soil health and best management farming practices for the local area," he said.
Any resident of Huron County worth their salt can name the three rotating cash crop celebrities of the area: corn, wheat and soybeans. But these shining stars are buoyed by an equally important supporting cast of cover crops. Nonkes wants these field workhorses to get their proper due. "We promote cover crops - after your main crop is grown, you would grow a cover crop, something that's not going to get harvested, to protect the soil from rain and wind and erosion over the winter."

The HCSCIA is an active group in the county. Members meet several times annually to keep up to date on modern soil improvement and conservation techniques. They also get hands-on when it comes to showing off effective methods. "We have a demonstration farm in Clinton behind the retirement centre there… we did conservation draining there, which is where, instead of a grid pattern, you follow the contours of the land - it creates a better drainage system. We did cover crops for beans there last year and we're doing cover crops for corn there this year, to kind of promote and also fine tune that system."

Nonkes comes by his interest in ecologies honestly. "I'm a farmer here in Huron County, the third generation on my farm. I grow corn, soybeans and wheat. I use cover crops in my rotation, so, after the wheat is done, I'm planting a cover crop of a five- or six-way mix and, after the corn comes off, I'll be planting another cover crop of rye. Cover crops protect the soil, and increase organic matter and carbon in the soil, which is just another part of what we're trying to do."

Nonkes displays a knowledge of practical science that helps him understand the big picture when it comes to the soil and crop health that is essential to putting food on the table for Ontarians, and keeps money flowing into our robust agricultural economy.

Understanding the importance of soil health is a critical part of agriculture, and agriculture is an essential part of our success as a society. Throughout history, there have been many mis-steps in the handling of soil management. The advent of the motorized tractor was an enormous boon for North America's agricultural industries, but irresponsible management of these machines in the 1930s led to over-tilling, which became one of the contributing factors to the Dust Bowl in the west and food insecurity during the Great Depression. As we enter an age of extreme weather and societal restructuring, Huron County's Eden-like conditions are becoming more rare every day, and historically important events like the HCPM help shine a light on our ever-evolving understanding of how we can best help our soil to help us help ourselves and our neighbours.

"This is the first year we're partnering with the plowing match. We were invited by the [Huron County Plowmen's Association] to come and show what we're doing and get people interested in soil health. We're very excited and honoured that they asked us to come. We're going to have demonstrations there of a couple pieces of equipment and some cover crops."

One of the demonstrations that Nonkes is most excited to show the community is strip-tilling. "Strip-tilling is when you till just where you're going to plant the soil - you're going to leave three quarters of the soil undisturbed. You just till the one quarter of the soil where you plant. Into that you're going to hope to put your fertilizer for the year. Instead of broadcasting it all over the whole field, you're going to concentrate it into your work strip," he explained. This tried and true method has many benefits for modern day farmers. "It should minimize your fertilizer needs and reduce tillage. Reducing tillage will help with erosion, it will keep more roots in the soil, so the soil is less likely to move when you get those big three-inch rains, like we got the other day. If you still have the untilled root systems there, it will help the water get into the soil and not run-off as much. It increases the water-holding capability of your soil, which keeps it from washing away."

This year's plowing match will feature a demonstration of strip-till units. Nonkes feels that this kind of demonstration is key to getting the word out about new conservation techniques. "The machines will sow a strip and show how they run… people will be able to actually see how the machines are operated," he explained. "We're also going to have three different kinds of cover crop mixes there… some people want a simple mix, some people like a different complex species." All cover crop seeds are being donated by Speare Seeds of Harriston.

"A good cover crop to start is just oats or oats barley. Then you can add in more plants that have deeper roots, or grow more plants on top. You can also add a legume like a bean to fix nitrogen from the air into the soil to feed your next crop."
Pairing with an association concerned with soil health is a natural fit for the plowing match - that which is considered to be the 'proper' plowing technique may change over time, but the match itself is always a good way to get the word out. "Plowing was originally done to turn the soil over, so that in the next year, you've got a weed-free environment to plant in. So, you turn the soil over, you cultivate it, and then you'll plant your crop… that was why people plowed. But now, conservation farming is getting to realize that the roots are important. So now we're only plowing one quarter of the field… we are more precise, and we can do that because we have GPS in the tractor… our tractors will drive themselves right down a row now!"

Nonkes considers himself privileged to farm in Huron County. "We have some very fertile soil here. If you look over all of Canada, right here in Huron County, we have a very productive soil, so we can grow really good crops And we don't have to irrigate to grow here. That's another one of the blessings we have. We also have a lot of end users in the area - hog farmers, dairy farmers, a lot of chicken farmers - all of them using the crops we grow. We also have a flour mill or even a couple flour mills. A lot of it all gets used in Ontario."

If you're interested in learning about strip-tilling techniques and cover crops, or you just want to feel the exhilaration of the ancient past meeting the current innovations, check out the 95th annual Huron County Plowing Match on Aug. 17 and 18, and let Nonkes and the HCSCIA demonstrate what a cover crop can do! The association's demonstration is scheduled to take place between 2-4 p.m. on Friday, Aug. 18.