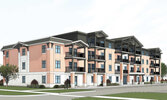 Huron County Council approves $20 million housing complex
BY SHAWN LOUGHLIN
In one of its last major decisions before presumably entering lame-duck status ahead of this October's election, Huron County Council has approved the construction of a 39-unit supportive housing building in Goderich at a cost of over $20 million.

Council made the decision at a special meeting on July 27, which was held virtually via Zoom. This comes after Manager of Planning Denise van Amersfoort made a presentation earlier this year on a number of options to address the issues of homelessness and supportive housing in Huron County.

As part of her presentation earlier this year, van Amersfoort offered up a handful of options. Councillors whittled them down to two, asking for more information on them, which was presented at the July 27 meeting. As the Planning and Development Department's preferred option, van Amersfoort presented a 39-unit building design, which would contain 10 supportive housing units, 29 units split between affordable housing and rent-geared-to-income housing and several support offices to provide services for those experiencing homelessness, as well as round-the-clock security at the site in Goderich. The second option was a 10-unit supportive housing building at a site that had yet to be determined. During the July 27 meeting, van Amersfoort told council that she had hoped to present a potential site for the second option at the July 27 meeting, but the department's preferred option had fallen through, so she had to go back to the drawing board.

The 39-unit site proposed for Goderich would be built on the south side of the former Victoria Public School property, van Amersfoort said, which is currently owned by the Town of Goderich. In a previous presentation, she said the department had reached out to Goderich Council and it had looked favourably upon selling the land to Huron County for the creation of supportive housing, but that agreement would have to be finalized before any further steps could be taken.

In addition to the approximately $20.4 million price tag, van Amersfoort said there would also be operating costs for supportive service delivery at the site on an ongoing basis.

She said department staff have projected a completion timeline of between 24 and 30 months for the project, which doesn't take into account if the project is appealed to the Ontario Land Tribunal.

In her report, van Amersfoort said she anticipated that planning approvals would take approximately six months to complete, followed by six months for a detailed building design by Allan Avis Architect, six months to reach an agreement with the Town of Goderich, 12 months for an application to Ontario Health for supports, three months for the tendering process and 18 months for construction before the building would be complete and ready to welcome people.

"A 39-unit apartment containing 10 supportive units is proposed for the former Victoria Public School property in Goderich (located on Gibbons Street). The Town of Goderich owns the subject property; county staff have, as directed by [Huron County Council], had discussions with the Town of Goderich administration and they are supportive of this site being proposed. The units would be a mix of one- and two-bedroom units and would comprise a blend of socio-economic households, including individuals from the county's by-name list, rent-geared-to-income [and] affordable units," van Amersfoort said in her report. "The supportive units would house individuals identified on the county's by-name list (currently experiencing homelessness) and include offices for agencies and medical appointments as well as communal spaces for gatherings. Tenants would have independent living units (i.e. individual kitchens, washrooms, etc.) and be provided with 'wrap-around supports' to help ensure successful tenancy. This option fits a dispersed supportive housing model (i.e. having several, smaller facilities located throughout the county, rather than one large facility)."

The second option, for a 10-unit supportive housing building at a yet-to-be-determined location, is estimated to cost $5.2 million and would also take approximately 24 months to complete.

In van Amersfoort's financial breakdown, she included $2.7 million from reserves to be allocated towards whichever project was approved. The amount represents the county's surplus from the 2021 budget year.

After factoring in the $2.7 million from reserves, van Amersfoort said the debenture financing for the first option would require annual payments of $1,344,000 over 20 years at 4.5 per cent interest, or $1,082,400 over 30 years at 4.55 per cent interest. The second option would require annual payments of $189,600 over 20 years or $153,000 over 30 years, based on the same interest rates.

Those payments would require the county to raise the tax levy by 2.92 per cent per year over 20 years, or 2.35 per cent over 30 years to cover the debenture payments for the first option, or 0.41 per cent over 20 years or 0.33 per cent over 30 years for the second option.

Goderich Mayor John Grace, who has been outspoken in regards to needing a solution for the homelessness problem in Goderich, said he appreciated the report and the high quality of work put into it by van Amersfoort and her team. Huron East Deputy-Mayor Bob Fisher agreed, but asked about contributing even more from the county's reserves or paying more per year in order to cut down on the money paid in interest over a 20- or 30-year period.

Several councillors echoed this sentiment, with van Amersfoort calculating that the interest over a 20-year period would exceed $5 million, even when utilizing the $2.7 surplus from the 2021 budget.

South Huron Mayor George Finch, however, felt that the Exeter project, which had been presented as an option earlier this year, should also be moved forward. Chief Administrative Officer Meighan Wark, however, said that council had made a decision to focus on the two aforementioned options at a previous meeting, so no further research had been done on the Exeter project.

North Huron Reeve Bernie Bailey was also not eager to proceed, despite thinking the project is a great one. He said that, with council being days away from entering lame-duck status, council would be putting a lot of pressure on the next Huron County Council, saddling the county with over $20 million in debt.

He said he felt it was "a shame" that council was considering such a costly, long-term decision just months before an election in which many of the representatives are contested.

He then compared the situation to that of the outgoing Morris-Turnberry and North Huron Councils in 2018, which he felt set himself and Morris-Turnberry Mayor Jamie Heffer up to fail by making a number of important decisions just before leaving office after that October's election.

Central Huron Mayor Jim Ginn, however, had a different take, saying he was very supportive of the recommended motion. He said he felt future councils would thank this council for its foresight and planning, moving to solve a problem that was getting bigger and bigger by the day.

Council then made an amendment to the motion, removing the clause stating that $2.7 million in reserves would be used for the project. Councillors said they wanted staff to be free to utilize even more money from the county's reserves to help make the project a success.

Council passed the amended motion by a vote of 12-2. Councillors Bernie Bailey and Paul Klopp voted against the motion, while Councillors Jamie Heffer, Bernie MacLellan, Jim Fergusson, Bob Fisher, Jim Dietrich, George Finch, Jim Ginn, Dave Jewitt, John Grace, Myles Murdock, Doug Harding and Warden Glen McNeil voted in favour. Ashfield-Colborne-Wawanosh Deputy-Mayor Roger Watt was absent for the meeting.