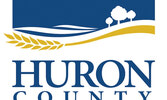 Huron County Council officially adopts 2022 budget
BY SHAWN LOUGHLIN
Huron County Council has approved its 2022 budget with a levy increase of $1,365,635, a 3.06 per cent year-over-year increase when compared to the 2021 budget.

Council approved the budget at its March 9 meeting, which was held virtually via Zoom, with no further discussion. This comes after several council discussions on the budget, including a special all-day budget deliberation session earlier this year.

In his report to council, Treasurer Michael Blumhagen said the county's property assessment value for the year has increased by nearly $161 million. If the county were to maintain the same tax rate as 2021, it would support a 0.91 per cent increase to the levy, which means the tax rate increase will be 2.13 per cent for 2022.

The impact of the tax rate Increase on the median Huron County property, which is valued at $209,000, will be $20.51 for the year, while the overall average property impact for the residential class is $29. The median farm property, valued at $985,000, will see an increase of $24.18. For the agricultural class as a whole, the average increase per farm property is $28.

Council then passed a bylaw to establish tax rates and the general county levy later in the meeting, officially adopting the budget for 2022.