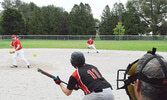 Huron County Fastball League returns to action on May 27
BY SHAWN LOUGHLIN
Next week, the Huron County Fastball League is set to return with a full season after a truncated schedule last year and a forced cancellation in 2020.

The season begins on Friday, May 27 with a pair of games. Goderich will travel to Sebringville to take on the Sting, while the Wroxeter Rippers will make their way to Monkton to play the Muskrats.

This season, every team will play 20 games, as opposed to last year's schedule, which saw each team play each other before entering the playoffs.

Local action begins on Wednesday, June 1 with the defending-champion Brussels Tigers hosting the Wingham Hitmen in Brussels at 8:30 p.m. Also that night, Goderich plays its second game of the season, heading to Mitchell to take on the Mets.

Sebringville travels to Milverton on June 2 for a game between the Sting and the AW Millwrights and on June 3, the Walton Brewers play their first game of the season, a road game in Monkton.

On June 4, the Tigers are in action again, hosting Sebringville in Brussels as part of Brussels Ball Day and on June 5, Sebringville heads to Fullarton to take on the A's.

For a full schedule, standings and links to team websites, visit huroncountyfastball.com.