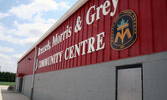 Huron East moves ahead with scaled down renovations for Brussels arena
BY SHAWN LOUGHLIN
Huron East Council has voted to move ahead with the scaled-down renovation and expansion of the Brussels, Morris and Grey Community Centre, despite a sharp rise in costs.

Council held a special meeting at the centre on Sept. 15 to discuss the issue. It was first raised at council's Sept. 7 meeting, when councillors suggested that meeting online via Zoom, during stormy conditions that threatened power outages, was not the proper forum for such an important discussion.

In a recorded vote, all 10 councillors voted in favour of moving ahead with the renovation and expansion, while Deputy-Mayor Bob Fisher voted against it.

To begin the special meeting, Huron East Chief Administrative Officer Brad McRoberts laid out the facts about the project and the funding application, which were reported in last week's issue of The Citizen. His presentation detailed the project's rising costs, a recommendation that Huron East and Morris-Turnberry (and community fundraising) bump up their contribution to one-third of the total project cost, and a list of recommended changes to the project that would lower its total cost.

Announced in March, the original project was due to cost a total of $4,788,000. The federal government would pay 40 per cent of the cost at $1,915,200, while the provincial government would cover approximately 33.3 per cent at $1,595,840. The municipal portion was set to cost approximately $1,276,960 (26.7 per cent) with Morris-Turnberry and Huron East covering half ($127,680 for Morris-Turnberry and $510,800 for Huron East) and the other half ($638,480) to be raised through community fundraising.

McRoberts then suggested raising the municipal contribution (including community fundraising) to one-third of the total project cost to meet the intent of the funding application. This would raise Morris-Turnberry's contribution to $159,600, Huron East's to $638,400 and community fundraising to $798,000, which would support a total project cost of just over $5.1 million.

However, as a result of pandemic-related supply chain disruptions, including rising material and labour costs, the total cost of the project rose by $3.25 million since it was last costed out.

McRoberts said the project would cost $8,727,481, which would be lowered to $7,997,000 when the HST rebate is factored in. However, a 4.5 per cent assumption for engineering fees would bring the project cost back up to $8,357,000, over budget by $3.25 million.

As a result of the sharp rise in project cost, the Brussels, Morris and Grey Community Centre Building Committee made over a dozen recommendations, removing or reducing several minor aspects of the project. Those recommendations, in addition to a reassessment of the cost to replace the building's roof, resulted in a projected cost reduction of just under $1.1 million, leaving a shortfall of $2,153,600.

The committee also recommended increasing its contribution, through community fundraising, from $798,000 to $1.4 million. This figure is supported by the Campaign Coaches research that was done when the renovation was first proposed.

That would leave Huron East and Morris-Turnberry to pay for the rest of the project, which would mean a total contribution of $469,900 for Morris-Turnberry and $1,889,700 for Huron East, based on the municipalities' cost-sharing agreement with the centre, which dictates that Huron East pays 80 per cent of any municipal costs, leaving the remaining 20 per cent to be paid by Morris-Turnberry.

In order to pay for Huron East's portion, McRoberts proposed a 20-year debenture with an annual payment of approximately $80,000 based on the current interest rate of 2.45 per cent.

With the debenture payment representing a 1.5 per cent increase to the municipal levy in 2022, McRoberts recommended that the debenture payment be funded through an annual capital levy of 2.1 per cent. He noted that this was a recommendation in the municipality's asset management plan, which was approved before his time in September of 2018.

"By establishing this capital levy on an annual basis, it will provide funding for capital assets in general in 2022 and each year thereafter. If the project were substantially completed by the end of 2022, then the municipal portion of the project funding would be debentured in 2023, with a portion of the 2.1 per cent capital levy being allocated to the debenture payment," McRoberts noted in his report to council.

This capital levy would provide funding for capital infrastructure throughout the entire municipality when needed. (It was incorrectly reported in last week's issue of The Citizen that the levy would only be for the Brussels, Morris and Grey Community Centre, rather than all of Huron East.)

In his report, McRoberts did recommend, however, that once the debenture is complete, which is estimated to be in 2042, the amount should continue to be set aside for the centre and placed in a reserve fund for future capital needs.

Mayor Bernie MacLellan began the conversation, saying he was in favour of moving ahead with the renovation and expansion of the centre and that he felt council should incorporate as much of the original project as possible, despite the rising costs. He said council has invested significantly in Brussels and it would be unfortunate to "nickel-and-dime" such an important project, which would undermine that previous investment.

Fisher said he wasn't in favour of spending so much on the centre. He said that, in 2010, council contributed $400,000 to a renovation project at the Seaforth and District Community Centre. Adjusted for inflation, he felt that investment in 2021 dollars would be just over $600,000 and he didn't feel the municipality should be spending any more than that on a project at the Brussels centre.

Fisher also questioned the investment into the centre when it has struggled to fill its ice times and a new gymnasium when several in Seaforth had failed. MacLellan, however, felt debate about usage of the centre was too little too late, saying that council decided to move ahead with the project months ago and it was too late to revisit that decision. He said council was at the "11th hour" and needed to make a decision about the project, let alone reaching back to a debate that had already been put to rest.

In regards to the capital levy, McRoberts said he had planned to "hit council hard" with that concept when 2022 budget deliberations began. He said the municipality needs to be more prepared to pay for its capital infrastructure and the proposed levy would go a long way toward doing that.

He also suggested that the future for municipalities is being self-sufficient because, with rising debt loads at both the federal and provincial levels, he felt upper-tier funding would continue to be reduced as the years go on. In addition, McRoberts said he felt like the public would support a capital levy, knowing that capital infrastructure they know and love will be taken care of for years to come.

Several councillors were concerned with how Morris-Turnberry Council would react if Huron East approved the project, with that municipality's contribution rising dramatically as a result of the new project cost. McRoberts said he has been speaking with Morris-Turnberry Chief Administrative Officer Trevor Hallam and he was aware of the situation. He added that, because of the nature of the agreement, he felt there was a certain obligation borne by Morris-Turnberry, though that certainly didn't mean that council didn't have a choice in the matter.

He said he is planning on making a presentation for Morris-Turnberry Council to bring members up to speed on the current state of the project and what the municipality would owe if it were to go ahead.

MacLellan said that for a very long time, Huron East had prided itself on having some of the lowest tax rates in the county, while not leaving enough money to pay for its infrastructure. He said that previous Chief Administrative Officer Brad Knight treated the municipality's money with the care of his own, and council was grateful, but that it was time for council to "step up our game" when it came to spending for the good of the municipality.

Councillors Alvin McLellan, John Lowe and Dianne Diehl agreed, saying the committee had done a lot of good work in bringing the project to where it is.

Fisher continued his opposition, saying he didn't feel that Huron East should commit to paying any more than $700,000 for its portion of the project.

Council disagreed, however, voting 10-1 in favour of the project, with Fisher being the lone vote against it. The project will now go ahead as recommended by the committee, which omitted or reduced a number of smaller aspects of the project.