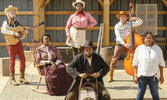 'John Ware Reimagined' closes Blyth Festival season
BY DENNY SCOTT
The Blyth Festival's last show of the season officially opened over the weekend, bringing some big voices, great music and larger-than-life characters to the Harvest Stage in a wonderful return to form.

John Ware Reimagined, penned by Cheryl Foggo, who Festival-goers may know from her work on The Devil We Know in 2012, felt as close to the pre-pandemic plays as any that have come to the Harvest Stage, with six artists gracing the stage: Janelle Cooper pulling a triple duty as Director, Music Director and bringing to life Mildred, Ware's wife; Twaine Ward as the famous Black cowboy John Ware; Warona Setshwaelo playing Joni, the nearly-modern-day thread that connects Ware's exploits to growing up Black in 1960s Canada, which is based strongly on Foggo's own experiences; Madeleine Eddy, who provided both a strong, silent presence as one of Ware's children and vocalist for many of the songs that provided a soundtrack to the action on stage and musicians George Meanwell and Graham Hargrove, who played a plethora of instruments for said soundtrack. With so many bodies on stage, it felt as if the pandemic may truly be coming to an end in the theatre world.

However, to talk about the quantity of performers isn't enough as each brought important, powerful voices, through song and prose, and theatrical and musical performances.

John Ware Reimagined tells the story of Joni, a woman looking back on her childhood growing up in Calgary as one of the only people with her kind of hair and colour of skin. She found little to celebrate about her culture until she found out that Ware was just like her: a Black Canadian with a love for the cowboy/cowgirl life.

Setshwaelo portrayed Joni both in her childhood and adulthood looking back on her youth, showing the optimism of childhood and the frustration of adulthood growing up with racism. The role may have been described as Joni herself as a dual role, dealing with the two sides of young Joni's personality, but in reality there were three separate characters that Setshwaelo played: Joni the cowgirl, Joni the young black girl and Joni the adult. Each character was different and nuanced in its own way.
Cooper stepped into the role of Mildred Ware, one she had played before, after an illness caused Germaine Konji to step down. Cooper has been attached to the play and the role for a decade, having previously performed as Mildred Ware, and was able to step into the role flawlessly, making it her own.

Ward brought Ware to life in a way that made the legend seem exactly that: bigger and, in every sense, more than his peers. Ware is supposed to be a large man with an imposing figure and Ward's voice alone, through both singing and speaking, conveyed that presence on stage, complementing his physical acting ability.

Eddy, as stated, straddled the line between being part of the musical ensemble that drove the story forward during its quiet moments and taking on a silent role as one of Ware's children. She also played, throughout the show, a silent observer constantly adding to the interactions on the stage by her gaze alone. The different positions showed her range as her strong voice added strength to the music while her acting role was completely silent, relying on her impressive physical acting abilities to add to the tale.

Meanwell and Hargrove, alongside Eddy, kept the story moving during the slower, more contemplative portions of the tale, proving that the music of a play can be as important a character as those named presences on stage.

The cast weaves together a tale of the 19th and the 20th centuries, showing the importance of knowing that people like Ware existed and should be celebrated.

Don't miss this season-ender, which has a slightly extended run due to the reunion of the Huron Pioneer Thresher and Hobby Association taking over the Blyth Campground this week.

The show returns to the stage on Tuesday, Sept. 13 at 7:30 p.m. and runs through Sept. 24. For more information and tickets visit blythfestival.com.