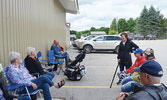 Joyce Johnston retires after 18 years with NH Food Share
BY DENNY SCOTT
Joyce Johnston marked 18 years as the Operations Manager for the North Huron Food Share earlier this year and celebrated it with friends and fellow volunteers earlier this week.

Johnston, who retired May 31, was the guest of honour at a barbecue at the Food Share in Wingham on Monday, June 27 celebrating with people with whom she had worked for a long time.

In an interview with The Citizen she said the decision to retire wasn't an easy one, but she felt it was time to move on.
"After 18 years, I knew there were people capable of taking over and I thought it was time," she said, adding she wanted to spend time with her grandchildren now.

Johnston also said there were health concerns, but she could have worked past those, and instead wanted to make the decision on her own time.

Johnston said she was approached 18 years ago to volunteer with the organization and suddenly found herself on the board of management before becoming a manager herself.

"It's one of those things where I showed up at the right place and the right time and was given a job that needed to be done," she said. "It's been great and I've really, thoroughly enjoyed it. I've made some tremendous friends and got to know a great core group of volunteers here. The community support in this area is fantastic, and that helped a lot."

She said anyone looking to follow in her footsteps, be that volunteering in general or working with the Food Share, needs to focus on working with others.

"It always takes a village and it always takes teamwork," she said. "It wasn't just me, it was a whole team and we always have had great support and that's what it takes."