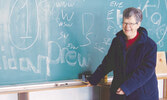 Karen Webster named first Huron County Citizen of the Year
BY SHAWN LOUGHLIN
Karen Webster of the Wingham area has been named the first-ever Huron County Citizen of the Year for her extensive volunteer work in the Blyth and Wingham communities.

A committed volunteer at St. Andrew's Presbyterian Church in Wingham, Webster is also the current secretary of the Women's Missionary Society and participates in several routine and special events held by the church.

Karen and her husband Allan also deliver Meals on Wheels food boxes in Wingham and the surrounding area and fill in when other drivers are absent.

For years, Karen volunteered in filing and organizing historical materials at the home of Brock and Janis Vodden, the co-founders of the Blyth Repository of History. Subsequently, the historical material has been moved to an office within the North Huron Publishing building in Blyth and, with Janis's death in 2018 and Brock's retirement in 2021, Karen has taken a lead role with the repository.

She is now the secretary of the repository committee and has actively recruited and trained volunteers to aid the work of the organization. Together, they organize and sort the immense collection of individual family histories, Blyth village history and histories of local organizations, such as schools, churches and cemeteries.

She also gives her time to the repository when people come looking for information about their ancestry, a local establishment, community group or military records with a connection to Blyth.

Karen has also volunteered with the annual Blyth book sale, the largest in Huron County, which has served as a fundraiser for the repository in recent years.

She has also acted as a researcher and volunteer proofreader for area committees creating community history books, including those focused on West Wawanosh, East Ashfield, Morris-Turnberry and Lucknow.

In the early months of the COVID-19 pandemic, Karen and some of her friends worked together to assemble pre-cut kits to make medical gowns and skull caps for doctors and nurses at the Wingham and District Hospital when personal protective equipment was in low supply.

She also belongs to a quilting guild that meets several times a year to create items and donate them to those in need.
She also travelled to Louisiana in the wake of Hurricane Katrina with Allan to aid a group of volunteers to help restore and rebuild an area affected by the natural disaster.

North Huron Publishing has been handing out Citizen of the Year Awards to worthy recipients in the Blyth and Brussels communities for nearly 40 years. This is the first year for a third award that expands the scope to all of Huron County, making Webster the first-ever winner.

The organization is planning to host a celebration next year, tentatively in the spring, to honour all three of this year's Citizen of the Year Award winners, in addition to the winners from 2020 and 2021.