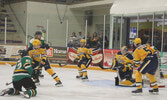 Knights set to return
By Denny Scott
The London Knights are returning to Huron County this weekend with a special memorial fundraiser game at the Central Huron Community Complex on Saturday benefiting Huron Residential Hospice.

On Saturday, Sept. 24 at 4 p.m. the Knights will host the Otters at the complex in honour of the late Steve Siertsema who passed away earlier this year. Organizer Brent Scrimgeour said that Steve's brother Mike was looking for a way to honour Steve with hockey and benefit the hospice. At the same time, he had received a call from representatives of the Knights organization looking for an off-site game, and the squad wanted to return to Clinton.

The game will be a very community-focused event, Scrimgeour said, with the Blyth United Church Women cooking for the players, local Kinsmen Club members hosting a barbecue and Cherrey's Dog House providing food outside the arena. Steve Sabourin will emcee the event, Eastlink Television will broadcast the game and Seaforth's John Lamont will open the game with the singing of 'O Canada'. The Clinton Radar senior hockey team will be handling the bar, he said, meaning everything will be tied to local organizations.

Aside from ticket sales, other fundraising activities will also be held at the game benefiting the hospice, Scrimgeour said, and he hopes that the organization will receive a needed boost from the fundraiser.

The game will also be the last exhibition matchup of the season for the Knights, he said, with their home-opener set the following weekend, meaning that rosters for both teams will be close to being finalized, guaranteeing an exciting match.
The Knights will be available for autographs afterwards, while the Otters will leave autographed memorabilia which Scrimgeour said will be distributed through fundraisers for the hospice.

Tickets are still available at Tim Hortons in Clinton and Blyth, the Blyth Ultramar and Blyth Festival Box Office.