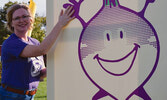 Last call for Citizen of the Year nominations, deadline approaching!
BY SHAWN LOUGHLIN
This is the last call for nominations for this year's Citizen of the Year Awards, with nominations set to close on Sept. 30. Very few nominations have been filed up to this point, so the more names submitted, the better.
You can nominate someone from the communities of Blyth, Brussels or any of their surrounding communities using the nomination form found in this week's issue of The Citizen or by e-mailing Editor Shawn Loughlin at editor@northhuron.on.ca. Please include your nominee's name and brief comments as to why that person should be the Citizen of the Year, as well as your own name and contact information.
The Citizen has been handing out the awards, which celebrate volunteerism and community spirit, since 1985, the year The Citizen was founded. The reigning Citizen of the Year winners are Annie Sparling for the Blyth area and the late Bob Kellington for the Brussels area, who was recognized posthumously.
The Citizen encourages residents and readers to nominate someone who has made a difference in their community and with this year going as it has, there are plenty of people who have stepped up and helped their neighbours and friends.
The annual Citizen of the Year Award winners are chosen from among reader nominations. Readers nominate residents who make a difference in their communities. Those nominations are then considered by a panel of past Citizen of the Year Award winners, who then choose the year's winner.
North Huron Publishing Inc. and The Citizen are proud to present this award annually, celebrating volunteerism and community commitment in the Blyth and Brussels communities.
Past winners of the award in the Brussels area are: Cal Krauter, 1985; Wayne Lowe, 1986; Jack Bryans, 1987; Ida Evans, 1989; Bessie Johnston, 1990; Betty Graber, 1991; George Langlois, 1992; Howard Bernard, 1993; Joanne King, 1994; Frank Thompson, 1995; Audrey Cardiff, 1996; Leona Armstrong, 1997; Neil McGavin, 1998; Beth Earl, 1999; Lyle and Alice Brothers, 2000; Nelva and Spence Scott, 2001; Jo-Ann McDonald, 2002; Kathy Bridge, 2003; Jeff and Cathy Cardiff, 2004; Clara Blake, 2005; Phyllis Mitchell, 2006; Doug McArter, 2007; Nora Stephenson and Fran Bremner, 2008; Rene Richmond, 2009; Jim Prior, 2010; Cathrine Campbell, 2011; Jim and Lois Lee, 2012; Yvonne Knight, 2013; Dave Stephenson, 2014; Sandra Cable, 2015; Jean Davidson, 2016; Elaine Armstrong, 2017, Doug Sholdice, 2018, Mary Douma in 2019 and Bob Kellington, posthumously in 2020.
Past winners of the award in the Blyth area are: Evalena Webster, 1985; Frank and Cenetta Bainton, 1986; Winona McDougall, 1987; Margaret Whyte, 1989; Simon Hallahan, 1990; Dr. Richard Street, 1991; Bill and Maxine Seers, 1992; Margaret Caldwell, 1993; Helen Gowing, 1994; Don Scrimgeour, 1995; John Stewart, 1996; Janet Amos, 1997; Betty Battye, 1998; Robb Finch, Dave Cook, Brent Scrimgeour and Doug Walker, 1999; Murray Siertsema, 2000; Charlie Shaw, 2001; Lavern Clark, 2002; Bev Blair and Thelma Johnston, 2003; Steven Sparling, 2004; Don "Barney" Stewart, 2005; Lois van Vliet, 2006; Janice Henry, 2007; Joe Hallahan, 2008; Brock and Janis Vodden, 2009; Jean Nethery, 2010; Kay Hesselwood, 2011; Steve Howson, 2012; Barbara Bosman, 2013; Marian Hallahan, 2014; Nellie Mason, 2015; Ernie Phillips, 2016; Ric McBurney, 2017, Carl Nesbitt, 2018, Jane Smyth in 2019 and Annie Sparling in 2020.