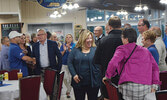 Lisa Thompson wins fourth term at Queen's Park
BY DENNY SCOTT
In a decisive victory, incumbent Huron-Bruce MPP Lisa Thompson of the Ontario PC Party retained her seat during the 2022 provincial election last week, marking her fourth consecutive win.

Thompson earned 51.97 per cent of the votes cast, or 24,369 according to unofficial results from the provincial election website elections.on.ca. The runner-up for the riding was Shelley Blackmore of the Ontario Liberal Party who captured 8,775 or 18.71 per cent of the vote. Other candidates who ran included Laurie Hazzard of the Ontario New Democratic Party (7,679 votes or 16.38 per cent), Matt Kennedy of the New Blue Party (3,384, 7.22 per cent), Matthew Van Ankum of the Green Party of Ontario (1,924, 4.10 per cent), Gerrie Huenemoerder of the Ontario Party (474, 1.01 per cent), independent Ronald Stephens (212, 0.45 per cent) and Bruce Eisen of the Alliance Party (77 or 0.16) per cent.

The riding had 54.28 per cent of its 86,394 registered electors cast a vote, much higher than the provincial turnout of an estimated 43 per cent.

Thompson, a member of the Progressive Conservative Party of Ontario under re-elected Premier Doug Ford, was the Minister of Agriculture, Food and Rural Affairs before parliament was dismissed for the election.
Thompson said that it was humbling to win her fourth consecutive election.

"The adrenaline is percolating as much tonight as it was Oct. 6 in 2011," she said. "There is so much we can do working together in Huron-Bruce. The opportunity is here, desire is here and the will is here and we're going to get it done."

Election night saw results delivered very quickly, with Thompson being named the winner by numerous news organizations by 9:20 p.m., 20 minutes after the polls had closed. Thompson said that was proof of the will of the people and that infrastructure throughout Huron and Bruce works. She credited her success with door-to-door canvassing, saying that's how she knew she was connecting with voters.

Thompson's last four years have been her first with a party in power, the Progressive Conservative Party of Ontario under Premier Doug Ford. Prior to that, she and the party were the official opposition party. During her most recent term, she held three ministerial positions: Minister of Education, Minister of Government and Consumer Services and, most recently, Minister of Agriculture, Food and Rural Affairs.

Over the past four years, Thompson said that, since her party has been in power, she has aimed to build strong relationships with the municipalities of the riding. Working with the municipalities was important, she said, in determining what tasks were important for the government to support.

When asked how she would push agricultural issues forward, she said her government has made Ontario appealing for agricultural development.

"We can add value to the crops grown right here in Ontario and bring food closer to home to knock off [inflation]," she said. "We can help people realize there is good quality food close to home."

She also said that infrastructure, including the expansion of broadband and natural gas works, are key focuses for her and the government.

"We made a commitment to connect every community via fibre or low-orbiting satellite by 2025 and we're going to see that through," she said.

Other infrastructure projects are also high on the list, she said, including highways. Economic recovery is also a key focus, she said, with value-added manufacturing and food processing projects being encouraged to locate in areas like Huron and Bruce Counties.
Thompson also addressed the ongoing housing crisis.

"We're going to be working strongly with Huron County and our local municipalities," she said. "I applaud Huron County for backfilling our settlement areas. That need was recognized years ago. Moreover, they're introducing new opportunities through the ARUs, the additional residential units."

She said the levels of governments, from municipalities up to the province and the Ministry of Municipal Affairs and Housing to make sure are committed to building affordable, attainable housing is realized throughout this riding.

"I can tell you… in working with municipalities, the appetite is there, the willingness is there, and now we just have to move forward with confidence they can get it done," she said.