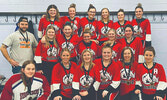 Local broomball team captures provincial gold
BY SHAWN LOUGHLIN
The Intermediate Ladies Rampage broomball team from Blyth took home the gold in their provincials debut last weekend in Arnprior.

The Rampage played their first game of the weekend against Keady Young Guns on Friday, winning 2-1 in double overtime, keeping them in the winners' bracket.

The Rampage continued to win their way to the top, undefeated. They played two games on Saturday against the Titans and Witches of Broom, both winning each game 1-0.

On Sunday morning, the Rampage ended up face-to-face again with the Young Guns as the top two teams of the Intermediate Devision. The locals fell short their first game against Young Guns by a score of 1-0, which forced them to a rematch as Rampage had so far been undefeated in the double-elimination tournament.

The rematch on Sunday afternoon proved which team was able to outperform the other and the Rampage took home the championship with a final score of 2-0 over the Young Guns.

After each game an MVP was chosen. They were Avrie Goetz, Jenna Plumsteel and Karly Howard. Assistant Captain Jasmine Mason received the MVP award for the Rampage's final two games.

In the Ontario Broomball Association Intermediate Ladies category, Sheree Yundt placed third and Karly Howard placed fifth in overall stats of the tournament.