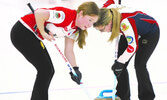 Local women's curling tournament going ahead this weekend
BY DENNY SCOTT
The Part II Bistro Ladies Classic Bonspiel will be running this weekend, Friday, Nov. 26 to Sunday, Nov. 28, at the Wingham Golf and Curling Club.

The event, which is in its sixth year, moved to Wingham in 2019 according to organizer Shawn Cottrill. This year it will be welcoming 10 teams to compete for the top spot; nine hail from Ontario and one team will be travelling from Switzerland, skipped by two-time world champion Irene Schori. Katie, Shawn's wife and partner in a mixed doubles team that once held the title of best in the province, will also be competing as part of a team representing the Wingham Golf and Curling Club.

Draws run at 4 p.m. and 7:30 p.m. on Friday and 10 a.m., 2 p.m. and 7:45 p.m. on Saturday with playoffs set for Sunday morning. Limited seating will be available to the public due to physical distancing requirements and all attendees need to show proof of vaccination to enter.

The event will also feature a three-course meal catered by Part II Bistro owner and chef Peter Gusso on Saturday evening.
The Cottrills, alongside the Wingham Golf and Curling Club, will also be looking to run the Ontario Mixed Doubles Tour Championship this February at the Wingham club. The event was first held at the club in 2019, and started five years ago.
Shawn said the event is scheduled to run Feb. 18-20 with 15 teams confirmed.

For more information on either event, contact the Cottrils at k2cottrill@gmail.com or 519-492-0717.