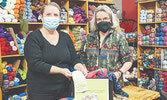 Locals lead county project to honour long-term care staff
BY DENNY SCOTT
Local crafters are "putting their needles together" to help recognize staff at local long-term care facilities with a project that started in Blyth called Huron Crafters for Caregivers.

While the project started with a suggestion from Huron County Tourism Development Officer Rick Sickinger, it's been two local crafters, Irene Kellins and Sharlene Bolen, who have pushed the project forward. The project will see local knitters and crocheters produce handmade gifts to give to people in Huron County's long-term care facilities.

In an interview with The Citizen, the pair said the original target was to have enough to give 300 gifts to people working at local long-term care facilities. However, Kellins and Bolen hope to go past that and give a gift to everyone who helps care for what Kellins called "the most important treasure", which is the elders of the community.

The project has a tagline of "Our gratitude is in every stitch", which Kellins said is an important message.
"The idea is for us to show the long-term care staff the gratitude we have for what they do," she said. "We want to acknowledge them with the best we can give them, which is our hand-made items."

Bolen said anyone who can knit or crochet is welcome to participate and to drop off items at any branch of the Huron County Library, as well as Stitches with a Twist in Blyth and Forever and Beyond, a yarn shop in Goderich on Hamilton Street.

Bolen and Kellins said the breadth of items coming in is great, including socks, gloves, mitts, toques and scarves. Because of the seasonality of some of the items, the two said collection will run through to the fall so the gifts can be given when they're most needed, just as the temperatures are dipping towards the end of the year. The cutoff for donations is September.

Bolen said they aren't requesting specific items, as she and Kellins didn't want any limitations put on the items coming in.
"Just do whatever is comfortable," Bolen said. "Some people hate making socks, other people do them easily, so it's about whatever people can give."

A number of items have already been collected, Kellins said, and she looks forward to welcoming many more.

For more information, visit your local library branch, Stitches with a Twist in Blyth or Forever and Beyond in Goderich.