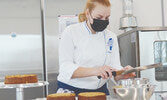 Londesborough's Wilhelmina Bakery to soon begin accepting orders
BY DENNY SCOTT
Londesborough-area baker Willeke Barten is putting her extensive education in the culinary arts into practice with the creation of Wilhelmina Bakery, named for her own Dutch heritage.

After high school, Barten travelled to the Netherlands where she pursued two degrees, one focused on ice cream and another on pastry, bread and business management.

"I wanted to continue on with pastries, and specialize in it," she said, explaining she then came back to Canada, going to school to acquire a Cordon Bleu Pastry Diploma in Ottawa.

She did work in Europe before coming home to Canada, where she worked with a number of local businesses as a pastry chef.
"I had a lot of fun doing that," she said, adding it was great to ply her trade so close to home.

However, as time went on, she realized she was making more and more products away from work, and decided it might be time to strike out on her own, creating the Wilhelmina Bakery, named after a Dutch Queen.

"I started baking for my friends and family," she said. "My first cake was for some neighbours back in 2018, and since then, I've been doing it."

During the pandemic, she said a lot of people wanted smaller, lighter cakes because they were only celebrating special events with close family members.

"The cakes needed to be nice and light, not something that's going to hit them like a ton of bricks," she said. "They are for small groups, not big groups, and that was different from before."

She also said her European-style pastries, which are significantly different from Canadian ones, were developing a following.
She has also done some wedding cakes this year, and has many of them lined up next year.
"This year has been busy with family and friends wanting to order things," she said.

While she was fine working for family and friends, she felt she could do more, and wanted to take the steps to build her own brand, and create something more official.

"The goal of the business is going to be a pick-up-only bakery where people order in advance, just like other cake makers do," she said. "What makes my business different is that it's not just cakes, but also cookies and pastries and could grow into more. I'll see where the path takes me."

While she's been anxious to open the business for some time, Barten ran into some issues with equipment supplies, as many others have during the pandemic, leading to a delay in her official opening to the public, which will be Monday, Dec. 6.
She said that, while she was able to track down and have the specialized equipment installed, there were ancillary parts that were necessary, but took time to show up and be installed.

As for the name, she said people may not immediately recognize or be able to pronounce her own name, Willeke, however Barten said that Wilhelmina is easier and more recognizable and immediately conveys a Dutch connection, which is what she has focused on in her creations.

She said that's prevalent in one of her most popular creations, the Whipped Cream Dutch Classic Cake, a recipe she brought straight from the Netherlands.

"Dutch Classic is what you find in every bakery and every supermarket there," she said. "It's the most popular one in the Netherlands."

Barten said that traces back to the House of Orange, a royal dynasty with roots in the country.

For more information, visit Wilhelmina Bakery on Facebook.