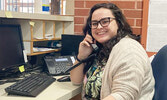 Long-time employee returns to Blyth Festival as manager
BY DENNY SCOTT
Nathanya Barnett has once again returned to the Blyth Festival, but this year, the long-time staple of the organization is starting as Box Officer Manager and Volunteer Co-ordinator, a full-time position instead of a seasonal one.

For almost a decade, Barnett has held seasonal positions at the Festival, including working at the box office and as the front-of-house manager. Before that, she was a part of the Festival's Young Company program, which she said really directed her towards a career in the arts.

"I've done a few things for the Festival over the years, including being the front-of-house manager, working in housing, and working as [General Manager Rachael King's] assistant in 2019 when The Pigeon King was at the National Arts Centre," she said, explaining King was travelling to Ottawa to help with the production, leaving Barnett to handle things in Blyth.

Barnett said she's excited to once again be coming back to the Festival, but is ecstatic about it being a permanent, full-time position. She said she found out in early December after telling King during the 2021 season that Barnett and her wife Frankie would love to be in Blyth full-time.

"We wanted to be back, and closer to family," Barnett said. "I told [King] I'd love to work full-time in whatever position was available."

While she's had a managerial title before, as front-of-house manager, she hasn't actually had any staff underneath her, since what she managed before were patron expectations and patron movement.

Now, she will be responsible for hiring and training people who have done numerous jobs she has done over the years and it helps that she knows the jobs herself.

"The front-of-house manager is a chaotic job," she said, adding it involves a lot of running around before shows start. "Basically that job is to be in charge of the customer experience. The primary job was to get everyone into the theatre on time, make sure the show starts on time and make sure the audience has a safe, comfortable and enjoyable experience.":

She will also be managing the box office, which is where she started, handing out tickets and welcoming people to the Festival.
The latter part of her title, volunteer co-ordinator, is a welcome addition, she said, as she has been working with the "army of incredible, dedicated volunteers" the Festival has had for years and is excited to work with them again.

The hope, she said, is that she will be welcoming people to both the Harvest Stage and Memorial Hall this year after the Festival moved productions exclusively to the outdoor Harvest Stage last year due to COVID-19.
"If we do end up inside, there will certainly be challenges with COVID procedures," she said. "That said, I do have a bit of a handle on that."

Barnett explained she worked at Crow's Theatre in Toronto last year, which was the first non-profit theatre in Toronto to re-open from the lockdown. She was in charge of the box office and front-of-house there, and had a hand in creating the COVID-19 procedures for the venue.

"Some of that work includes keeping a balance between the government mandates and regulations and making sure we have our own policies in place," she said. "Some things may not be mandated, but you do them anyway to make people feel safe… I plan on bringing that experience and knowledge to the Festival."

With those changing mandates, however, she doesn't know what the summer will look like, so she's not sure what her job will entail this summer.

Barnett is glad to be at the Festival not only because of her experience there, but because it was her first and one of the most memorable theatres she has experienced.

While she was born in Oakville, her parents moved to Goderich when she was only four months old, so Huron County is her home and she is very excited to be returning after primarily living away from the county for a number of years.
Barnett has a Double Major in English Literature - Creative Writing and Theatre - from the University of Windsor and recently completed her Master's of Fine Art and Creative Writing at the University of Guelph.

"As a matter of fact, I was defending my thesis when the first preview shows were starting at the Harvest Stage last year," she said.
Barnett had started in-person at the University of Guelph, but by the time she was set to defend her thesis, classes had moved online, so her defence had to be presented online as well. It happened to fall on the day of the first preview of The Downs, the show that opened last year's season.

After having so many years tied to the Festival, she's excited to be able to build a life in Huron County with a job there.
"I'm really excited," she said. "The Festival has always felt like home. It's what started me in theatre, it's the reason I decided to pursue playwriting due to Young Company, and the reason I realized I could also work front-of-house and backstage."

She said working at the Festival proved to her she had the skills to be in a front-facing position, which led her down the career path she's on, and she's glad it's brought her back to the Festival.