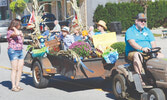 Lowe to resign from Huron East Council position at end of year
BY SHAWN LOUGHLIN
John Lowe is resigning from his position as a Huron East Councillor for the Brussels Ward at the end of the year.

Lowe made the announcement at council's Oct. 19 meeting, saying that his work-home balance had been unsustainable for well over a year and that "something had to give", which is why he decided to vacate his council seat.

Despite the fact that a municipal election is set for October of 2022, less than a year after Lowe's resignation becomes official, he encouraged council to fill his position, rather than letting it sit empty until the election. He said it would give a candidate the opportunity to sit in as a member of council and learn the ropes ahead of running for a full four-year term in the fall of 2022.

Chief Administrative Officer Brad McRoberts said he had received Lowe's resignation and was already in the process of preparing a report for a future meeting of council to present council with its options for filling Lowe's position.

Mayor Bernie MacLellan said he was disappointed to see Lowe go, saying he had always appreciated him as a councillor, despite often disagreeing with him. He added that Lowe is a passionate member of the community willing to stand up for his views and opinions on the issues, which is what makes the ideal councillor and that's why people like Lowe get elected by their constituents.

Lowe was acclaimed as one of two Brussels Ward councillors in the 2014 municipal election, alongside long-time councillor David Blaney. In 2018, Lowe retained his seat, with he and Zoellyn Onn winning the two Brussels seats, beating out Blaney, the only other contender.

Lowe's seat becomes vacant as of Jan. 1, 2022.