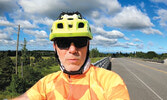 Lucknow man sets out for cross-country cycling trip, raising funds for hospitals
BY SHAWN LOUGHLIN
By the time you read this, Jurjen Weerman from the Lucknow area will be on his way to the west coast of Canada, days away from beginning his cross-country cycling trek to raise money for two area hospitals.

Weerman, who is a technical advisor with the Euro-Parts team locally, decided to take on the challenge a few months ago. As someone who was born in the Netherlands, he says he was born on a bike and wearing football (soccer) boots and cycling was always one of his passions, which he kept up when he moved to Canada in 2001.

A few years later, there was a cross-country cycling fundraiser, but he didn't have the money to take part and make it happen. It was something that stayed with him, however, and he had always hoped to consider something like it again when the time was right.

Weerman said that when the COVID-19 pandemic struck, he was motivated to dust off his bike once again as the world was taken over by lockdowns and a lack of travel. It was then that he started to think about perhaps riding across the country again.

He'll be part of a team of three people who will be making the trip from British Columbia to Newfoundland, with a few dips into the United States along the way, in an effort to avoid busy highways as much as possible.

He says they will be staying with friends along the way, or in hotels or bed and breakfasts, even rough camping on the side of the road or in fields at times. He said the schedule is a bit loose to allow time to visit friends along the way, see some sights and build in a buffer to account for the unforeseen.

As for the cause, Weerman said that, after suffering a pair of heart attacks in 2012 - and with the deaths of both his mother and sister at young ages - he wanted to reach out to hospitals and see if his desire to ride across the country could benefit them in some way. So, he was in contact with the Wingham and District Hospital Foundation, as well as the Children's Health Foundation based in London.

The journey is about 8,700 kilometres long and Weerman says that, if he can raise a dollar per kilometre, he would be a happy man, though anything over and above that would be fantastic.

Weerman's journey will begin in Jordan River, British Columbia this weekend and end in St. John's Newfoundland sometime this August. Again, the team members are giving themselves some time to be flexible while out on the road.

While the day's mileage will vary greatly along the way, depending on how hilly the route is, among other things, the goal is to travel between 100 and 125 kilometres per day, six days a week, Weerman said in an interview with The Citizen.

In Wingham, any funds donated to Weerman will be used to upgrade the chemical analyzer for the hospital's lab.

Donation pages have been set up for him on both hospital foundations' websites and he will be tracking his progress on YouTube at "jurjencyclingadventures" or on Strava, which will track his cycling progress.

To get in touch with Weerman, e-mail him at jurjen.c.a@gmail.com.