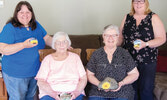 Margaret McInroy chosen as 2022 Brussels Citizen of the Year
BY SHAWN LOUGHLIN
Margaret McInroy of Blyth has been chosen as the 2022 Citizen of the Year for Brussels and its surrounding communities thanks to her dedication and hard work in the communities of both Brussels and Walton.

McInroy has been an active member of the Walton Women's Institute for over 40 years and one of McInroy's several nominations came on behalf of that organization. She has also been a long-time volunteer with the Melville Presbyterian Church, serving on the church's Session, Women's Guild and choir, as well as aiding numerous fundraising endeavours for the church, most recently the church's anniversary cookbook, which was released last year.

She has also served as an organizer and cook for the Soup and More 2 meals and has organized fundraising dinners for the Walton Community Hall.

McInroy has just completed an extended term, due to the COVID-19 pandemic, as the president of the Huron-Perth District Women's Institute. She was also greatly involved earlier this year when the Women's Institutes of Huron and Perth Counties marked the 125th anniversary of the Federated Women's Institutes of Ontario with an outdoor event in Atwood.

She also was instrumental in the Walton Women's Institute marking its 65th anniversary in 2021, organizing a virtual event to celebrate the occasion.

McInroy has served as the president, secretary and treasurer of the Walton Women's Institute, as well as serving on numerous sub-committees. She currently sits as the fundraising co-ordinator for the organization. Funds raised by the institute recently have benefitted the Brussels Legion, Brussels Fall Fair, the Huron Women's Shelter, the Huron County Christmas Bureau and more.

In 2017, McInroy also served as a co-chair of a food booth for the Lifestyles Tent at the International Plowing Match in Walton on behalf of all of the region's Women's Institutes.

North Huron Publishing has been awarding Citizens of the Year in Blyth and Brussels for nearly 40 years, this year adding a third category to honour someone from throughout Huron County who has made a difference in their community.

Nominations are made by members of the community and the winner is then chosen by a panel of the past five winners of the award.

North Huron Publishing hopes to host an event next year, perhaps in the spring, to honour all three of this year's Citizen of the Year Award winners, as well as 2020 winners Bob Kellington (posthumously) in Brussels and Annie Sparling in Blyth and 2021 winners Zoellyn Onn in Brussels and David Cartwright (posthumously) in Blyth.

Past winners of the award in the Brussels area are: Cal Krauter, 1986; Wayne Lowe, 1987; Jack Bryans, 1988; Ida Evans, 1989; Bessie Johnston, 1990; Betty Graber, 1991; George Langlois, 1992; Howard Bernard, 1993; Joanne King, 1994; Frank Thompson, 1995; Audrey Cardiff, 1996; Leona Armstrong, 1997; Neil McGavin, 1998; Beth Earl, 1999; Lyle and Alice Brothers, 2000; Nelva and Spence Scott, 2001; Jo-Ann McDonald, 2002; Kathy Bridge, 2003; Jeff and Cathy Cardiff, 2004; Clara Blake, 2005; Phyllis Mitchell, 2006; Doug McArter, 2007; Nora Stephenson and Fran Bremner, 2008; Rene Richmond, 2009; Jim Prior, 2010; Cathrine Campbell, 2011; Jim and Lois Lee, 2012; Yvonne Knight, 2013; Dave Stephenson, 2014; Sandra Cable, 2015; Jean Davidson, 2016; Elaine Armstrong, 2017; Doug Sholdice, 2018; Mary Douma, 2019; Bob Kellington (posthumous), 2020 and Zoellyn Onn in 2021.