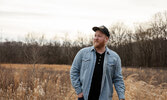 Miller to play Music in the Fields for the first time
BY SCOTT STEPHENSON
Between his summer full of shows and his impending acoustic tour in the United Kingdom in September, Tyler Joe Miller is going to squeeze in a set at Lucknow's Music in the Fields festival, much to the delight of his many fans in the area. Miller was kind enough to press pause for a moment and chat with The Citizen about how his year has been going. "It's been crazy busy - last summer was absolutely nuts," he exclaimed. "We thought it was going to be a bit more quiet this year, but we've ended up having a super-full summer this year too!"

His jam-packed schedule shouldn't come as a surprise - being the first independently-signed artist to top the Billboard Canada country charts with a debut single tends to get a person noticed, especially when your follow-up single hits number one as well. He is also the winner of the 2021 SiriusXM "Top of the Country" contest, and he has already been nominated for a plethora of other awards, including the 2023 Canadian Country Music Award for Single of the Year, Video of the Year, and Musical Collaboration of the Year.

For Miller, the secret to writing a successful country song is trying to tell a good story. "It's not just having the steel guitar or the fiddle. I can enjoy a song more when somebody just has an acoustic guitar, telling a really good story with a good melody than some upbeat honky tonk song that doesn't mean much… my favourite song in the world is 'Rainin' You' by Brad Paisley, and it's just super low key. I think country music is about life, not just country life." Miller worked in construction in the time just before his career really took off, and had the surreal and humbling experience of hearing his own songs on the radio while he was working for clients. "Just because your songs are famous doesn't mean you're famous… I feel like if I'd just gotten into music without a background in a totally different industry, I wouldn't have the work ethic I need to succeed."

This year's festival will be the B.C. native's first time setting foot on the hallowed grounds of Graceland, and the in-demand artist is excited about the prospect. "It'll be my first time playing there and my first time being there - I've never even been to that part of Ontario, and I can't say that I know what to expect, but I think it's going to be an awesome time!"

Miller is also excited about performing at Lucknow's premier outdoor venue. "I overheat really easily," he laughed, "so I don't get as sweaty! And beyond that, there's something about playing outdoors that just feels right."

Over the past few years, Miller has travelled across Canada playing music, and he's seen his fair share of fans from coast to coast. "There's country people out here on the west coast, and in the cities, people put boots on and come out, and they have a good time and they sing along, but then you go to Atlantic Canada, and those people are just crazy! There was a show last year where somebody put their dog on stage. There were some people with a flamethrower in the crowd during one of our slow songs - it's nuts! But all the way across Canada, country fans are the best fans, just the way that they show it is a bit different. The one thing that's always the same no matter where I go, is people singing my songs back at me. And that's the coolest thing."

If you want Tyler Joe Miller to see how fans on Ontario's West Coast show their love of country music, check him out at Music in the Fields in Lucknow on Aug. 26.