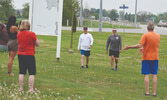 Mounsey Fund's 100K in a Day fundraiser to return as relay in 2022
BY SHAWN LOUGHLIN
After a successful first year, the Dave Mounsey Memorial Fund (DMMF) is bringing back its "100K in a Day" event next summer, though with a bit of a twist.

Set for Saturday, June 4, the second-annual 100K in a Day will run away from Huron County, as opposed to ending there like the 2021 event, which began in London and ended in Wingham. The 2022 trek will begin in Grand Bend and end in Corunna, a small town just south of Sarnia on the St. Clair River, bordering Michigan.

Another change for next year's event will be that many people connected to the DMMF will be taking part like a relay, with some people walking one portion of the route before the next group takes over. This year's event was run entirely by Fund Founder Patrick Armstrong and member Dave Matheson and it took its toll on the two men, with the entire walk lasting nearly 24 hours.
Armstrong, in an interview with The Citizen, said he has reached out to some of the families who have had members memorialized with defibrillator donations through the Fund about walking portions of the journey and the early response has been excellent. Armstrong said many families have been looking for a way to be involved in the work of the Fund beyond simply directing donations its way and this gives them that opportunity.

He says he and Matheson still plan to cover some of the portions of the trip, while a firefighter from London has already volunteered to do the entire 100-kilometre distance in bunker gear, which Armstrong says puts his and Matheson's journey earlier this year to shame.

He said this event will complement the Fund's annual Dancing with the Stars event, which he expects to return next year, as well as its established Run Around the Square, which was held virtually this year.

Further announcements and fundraising information will be made available early next year, Armstrong says, allowing people to get through the holidays before the Fund focuses on its next initiative.
He also said that, along the way during next year's event, there will be at least one defibrillator donation, which will mark a "first" for the Fund, though he couldn't offer any further details at this time, just that it was something he was proud the Fund was taking on.

To date, the Dave Mounsey Memorial Fund has placed over 135 defibrillators around southwestern Ontario. Three lives have been saved by Mounsey defibrillators as a result.

Mounsey, for whom the Fund is named, was an Ontario Provincial Police officer based in Wingham. He was killed in a single-vehicle accident in 2006 and the Fund was established a few years later.

Before his death, Mounsey had trained to compete in a marathon in hopes of raising enough money to buy a defibrillator for the Blyth Fire Department, of which he was also a member. After Mounsey died, Armstrong established the Fund to continue doing that work, placing life-saving defibrillators in public buildings across southwestern Ontario. To date, defibrillators have been placed in the names of police officers, firefighters, paramedics and soldiers who were killed in the line of duty.

The first-ever donation was made in Mounsey's name at Memorial Hall in Blyth and the second donation was made in the name of Cpl. Matthew Dinning of Wingham at the Wingham Legion. Dinning was killed in Afghanistan, serving as a member of the Canadian military police.

For more information on the Dave Mounsey Memorial Fund, or more details on its donations, visit its website at davemounsey.com.