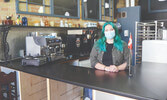 New bakery sets grand opening for Saturday in Blyth
BY DENNY SCOTT
After a delay of several months, Brød Bread and Pastry will be opening this weekend with a grand opening running 10 a.m. to 6 p.m. on Nov. 13.

The bakery was originally scheduled to open in the spring, however, delays resulted in owners Karen Middleton-Meadham and Gerrit Sepers pushing the grand opening back from the spring until this weekend.
"It's been an adventure," Middleton-Meadham said in an interview with The Citizen.

She explained that she and Sepers had worked with phenomenal contractors, however everything was taken longer than expected, likely due to COVID-19. One delay that held up the opening, she said, was switching their propane service to natural gas, which their oven requires to work.
"Everything has to work together," she said. "It took months to get that taken care of."

While the delay wasn't something the couple sought, Middleton-Meadham said it did provide them with an opportunity to breathe, iron out any problems and take time to work out all the kinks. That said, the waiting could prove to be "nerve wracking", she said.

The grand opening will feature coffee, tea and hot chocolate, with the chocolate for the latter, as well as for baked goods, coming from Woodstock's Habitual Chocolate, owned by Sepers' brother-in-law Philippe Lehner.

As for what will be on hand, Middleton-Meadham is looking forward to sharing her grandmother's rye bread, alongside other products, and some special Danish treats and more traditional bakery fare. The bakery is an homage to her grandmother, Middleton-Meadham said in a previous interview with The Citizen. Her family is Danish and her grandmother was the first to introduce Middleton-Meadham to baking, which has become a life-long ambition.

Sepers and Middleton-Meadham will be joined by their daughter Lily for the grand opening, after which Middleton-Meadham said she will be setting the hours for the store going forward.

After announcing the opening, she said the feedback from the community has been amazing, and she anticipates the business will be full throughout the day.

For more information, visit www.brod.ca or look up Brød Bread and Pastry on Facebook.