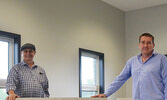 New Blyth business strives to think outside of the block
BY DENNY SCOTT
Local businessman Mark Beaven and his partner George Morfopolous are hoping to change the way people construct buildings, from residential to commercial to industrial sites.
Called Advanced Block Construction, the business will be run out of the former Emergency Services Training Centre just south of Blyth on Blyth Road.
With a patent-pending concrete block design, the two hope their dry-stack, or mortarless, system can not only help to make building more affordable, but also cut down on construction times through a number of advances the design provides.
The blocks are hollow with interlocking edges at the top and bottom, which allows for them to be stacked very quickly and easily, according to Beaven and Morfopolous. It also reduces the need for skilled trades on a construction site, they said, as, once the first layer of blocks is put down and guaranteed level and plumb, most of the remaining work can be done by general labourers. The blocks are small enough to be carried without special equipment, and the interlocking nature of them makes construction much simpler.
Beaven compared the blocks to LEGO bricks, saying they are just as easy to put together for their crews.
The blocks also have, running through the hollow centres, special ribbed brackets, which make running electrical wiring and conduit and water pipes much easier, Morfopolous said. That design, in turn, not only reduces the amount of time that skilled trades need to get their work done on a jobsite, but also allows them to work concurrently with other trades. As a result, there are fewer delays tied to scheduling various trades when compared to traditional construction methods.
"The entire shell of a building, the walls and the floor, can be done quickly and affordably," Beaven said.
Morfopolous, who has been in construction for 30 years, has been using the system for some time and said that, in a traditional project, a mason working with block and mortar can lay up to 190 blocks per day. The proprietary system that Advanced Block Construction offers, however, can allow one mason and four labourers to do 300 blocks per hour, meaning entire structures can go up in a day, instead of weeks.
Once the blocks are assembled and work is done regarding electrical and plumbing systems, the hollow walls can be treated one of two ways: they can either be filled with an insulation material that provides a high R-value or, alternatively, the blocks can be parged, or covered, with special coatings to seal them in place, with one of those coatings being specifically designed to kill microbes on contact, making it extremely desirable for agricultural applications.
"The material is permanent and only needs to be applied once," Beaven said. "It's made up of microscopic spikes which kill germs that come in contact with it."
After the walls go up, the building can be completed with either traditional peaked roofs or flat roofs, according to Beaven.
While dry stack buildings have been allowed for years, the problem has been finding a system that meets building code requirements, Morfopolous said. He explained that, with standard blocks or bricks and mortar, individual blocks can have variances in structure of plus or minus three millimetres. Dry stack, however, can only be 1.6 millimetres out in either direction.
As a result, Morfopolous has been working with various partners for years to make sure the blocks are precision-manufactured.
While the company is currently having its blocks made off-site by a third-party, both Beaven and Morfopolous are excited to have their own factory built inside the vehicle bay of the former Emergency Services Training Centre, which will allow them to make, cure and provide blocks for construction at a faster pace. Morfopolous says that the facility, at capacity, could make 10,000 blocks per day, but will start off at 2,000 per day.
The company won't be selling its product, but instead will be providing it alongside construction crews to make buildings.
Aside from the speed and cost savings of 10 to 40 per cent when compared to traditional construction, Morfopolous said the bricks are fireproof, which can make a big difference in emergencies. He said that "building a house that burns is like building a boat that sinks" and feels that the interlocking bricks are far superior to other construction materials because of that.
The company wants to focus, Beaven said, on unaffordable homes affordable for everyone. He said, with the bidding wars and lack of houses, Advanced Block Construction can be a part of the solution.
Morfopolous also said that, with the quicker building times, structures are less exposed to adverse weather conditions, meaning that construction can go forward, albeit a little more slowly, during what is the off-season for traditional construction methods.
He said he also foresees the company being able to help communities hit by disaster with plans to make a mobile block factory that can be dispatched to hard-hit areas. Using examples like floods and tornadoes, he said Advanced Block Construction's materials and methods could be the difference between people being homeless and being able to help recreate their own communities.
"One of our taglines is that we're 'Building a better world, one block at a time,'" he said. "We believe that, and we see a lot of opportunities for us to do good."
The company will also create jobs, he said, with 25 to 30 employees needed locally. It will also bring people to the community, he said, as people from around the world will want to licence the product from them. Thanks to the former Emergency Service Training Centre's educational purpose, he said they will be able to train not only local employees, but foreign licensees, in Blyth.
The company opened recently, but has already started quoting and working on projects locally, and will soon look at creating show homes to prove the validity of the product.
For more information on Advanced Block Construction, visit www.advancedblockcorp.ca.