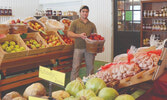 New owner settling in at Brussels' Maitside Orchards
BY DENNY SCOTT
Earlier this year,Davin Lichty took over Maitside Orchards, seeing the agricultural business as a chance to pursue his interest in growing fruits.

Lichty, who took over in mid-June, said he has always been interested in operating the kind of site and business the orchard represented, so he saw it as a good opportunity when it went up for sale.

The new owner hails from the Elmira area where he worked on his family's dairy farm, and while they had a small orchard, it was apples and oranges compared to what he's working with now.

"There has been a big learning curve," he said in an interview with The Citizen. "We had some unexpected difficulties early on, but beyond that things haven't gone too bad."

Lichty said he doesn't plan any significant changes to the way the orchard and store have been run before, aside from the fact that he wants to make the latter a year-round initiative.

"The former owners had been closing the store for about half of the year, through the spring and early summer, but I intend to keep it open all year," he said.

Lichty said the response and support from the community so far have been great, and that he appreciates the input from his community and customers.

For more information, visit www.maitsideorchards.ca.