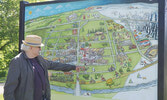 NH Council members unimpressed with Blyth art installation
BY DENNY SCOTT
A recent art installation unveiled in Blyth is ruffling some feathers, leading to at least two council members feeling it should have been immediately taken down.

The art installation, an artist's interpretation of a map of the village of Blyth, was unveiled at the trailhead of the Greenway Trail, part of the Goderich to Guelph Rail Trail. The trailhead is where the trail meets Queen Street/County Road 4.
Created by Randy Jones, the piece of art shows the village in four seasons and highlights specific landmarks in the community. It was unveiled just shy of two weeks ago and two councillors passed on heated remarks they said were made about the installation.

Councillor Chris Palmer had a very negative review of the sign, eventually saying it was "so bad and disappointing" that he wanted the sign to be removed until it could be fixed.

"There's a lot of problems with it," he said, first claiming that, despite the fact that it was on North Huron property, North Huron staff had not been advised of its installation. "[The Blyth Business Improvement Area (BIA)] didn't get approval from staff. You can't do that."

Palmer had a further litany of complaints about the artwork itself including the lack of a "You Are Here" X, the land acknowledgement on the sign being different from North Huron's, Gypsy Lane not being labeled while Central Huron roads are, Howson Mills not being labeled, Millstone Elevators not being labeled, the Blyth and District Community Centre being absent and, finally, he offered a critic of the artwork, specifically saying he couldn't tell if the Blyth Festival's Harvest Stage was the stage or the Rogers Centre.

He made a motion to have the sign removed by staff, remedied with the BIA and the artist and then replaced, later clarifying all of that should be done at the expense of the BIA. Councillor Paul Heffer would second the motion.

Councillor Kevin Falconer said he wasn't arguing with Palmer's concerns, saying he shared some of them, but pointed out it is a piece of art and, therefore, open to artistic interpretation. He went on to say that council would need to consider changing murals throughout the community if council was opening up the option of rebutting work based on content critiques.

He also said council needed to be careful about taking down the sign without a plan to put one up. While the township had acted as an intermediary between the BIA and Regional Tourism Organization 4, which provided the funding for the sign, no actual tax dollars had been spent on it. Falconer said the BIA and concerned citizens had been asking council and staff for some time to help direct cyclists to the downtown core, and that the sign was a volunteer-driven way to do that.

"If we're going to correct someone on this basis, we better have a plan to replace it," he said. "We didn't pay for it to begin with…. These people went forward with a sign because the township hadn't done anything."
Falconer said he was fine with removing the sign provided that council had some idea of how to proceed.

"We better have a plan and budget to do it right before we tell someone that [we] don't like the way [an artist] painted something," he said. "I agree with the faults and [Palmer's idea] but I would pray that we back it up with a plan."

Deputy-Reeve Trevor Seip said that, if a rule was broken, North Huron Council needed to remedy that with the proper action. However, staff couldn't point to any particular breach of rules, saying they would look into the municipality's sign bylaw to see if anything hadn't followed the rules.

Falconer agreed, saying that, if the sign is taken down because conditions weren't met, council needed to lay out which rules had been broken.

"Show me the law," he said. "If we want to take it down, [we need to point out how] it wasn't done right the first time."
Reeve Bernie Bailey pushed back against the discussion and the motion, calling it "very heavy-handed."

He said that Gypsy Lane isn't on the map because the art installation was originally planned while council was addressing the appropriateness of the street name. He went on to say the installation was never meant to be a street map, but an artist's version. Bailey then said the BIA had gone through over 20 versions before the finished art piece was chosen, so it wasn't quickly put together.

Bailey admitted there were mistakes and he said he hoped it could be remedied, but regardless of that it's an artist's concept, not a road map, and the sign shouldn't be taken down.

Finally, Bailey said, before council voted on the issue, that the project was done by volunteers and council should be very careful before "throwing away people".

"These are volunteers you are condemning, volunteers that are working to make their village better," he said. "The same volunteers that will clean up the village, the same volunteers that will get picnic tables out, the same volunteers that do everything. These are the same people that want their community to be better."

Bailey called for a vote on the motion and only Palmer and Heffer voted in favour of it, resulting in it being defeated.
Instead, council directed staff to see if any rules had been broken, with staff saying they would review the memorandum of understanding that was signed by the township and RTO4 as well as any applicable bylaws. Bailey said he hoped there were no problems with bylaws, as installation was handled by staff.

"Check out if they violated the bylaw, because our staff were in charge of that part," he said, before urging staff and council to work with the volunteers.

Falconer also suggested that, as part of any report that staff brought back, signs being erected by North Huron on the trail be included for information, because the art piece could stand alone if North Huron's signs remedied some of the concerns brought forward.