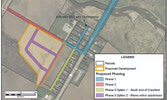 North Huron adopts phased approach to Hutton Heights
BY DENNY SCOTT
As of Monday night, North Huron Township Council has decided to start the process of running water, wastewater and stormwater infrastructure into Hutton Heights in East Wawanosh to enable development in the area.

At council's Aug. 9 meeting, members voted unanimously to proceed with running water from Wingham to the area, which will eventually service a potential 405 lots, including 21 existing, 103 in a development on land currently owned by the municipality, 101 on privately-owned developable land and 180 lots in lands that could be developed in the future.

Dale Erb and Kelly Vader of engineering firm B.M. Ross and Associates presented options to council about how to proceed, including a phased approach that council would eventually modify to make sure as many developable lands as possible would be serviced as quickly as possible.

Erb and Vader told council the expenses for the project would be split into external and internal costs when considering the lots that North Huron has to sell. The external costs, or the costs to get water to the area and construct the necessary wastewater infrastructure, and develop road infrastructure in the area, will total more than $5 million. This includes running a water main from the intersection of County Roads 4 and 86 in Wingham to the intersection of Crawford Street, the reconstruction of Crawford and Lloyd Streets in Hutton Heights, the installation of infrastructure for both stormwater and wastewater and the extension of Lloyd Street to facilitate two access intersections with the development.

Vader's recommendation for recouping those external costs included charging not only the lots on the developable lands, but existing properties that she said could be forced, over time, to hook into the new infrastructure.

She suggested that 47 per cent of the external costs be charged to the subdivision lands, 18 per cent to the lands east of the site and eight per cent to the lands west of the site. Existing developed lots in Hutton Heights would be responsible for eight per cent, while lands fronting on County Road 4 that could be developed would be charged five per cent. The municipal share for the project would then sit at 14 per cent.

The internal costs for the lands North Huron owns would be slightly less than $3.3 million, and be recouped through charging $33,000 per lot. Those costs include road construction, water distribution, sanitary sewers, stormwater management costs, storm sewers and electrical and utilities allowance.

Vader and Erb also presented their plans for phasing in the external portions of the project over several years, with Phase 1A set to include running the watermain from Wingham to the Crawford and Lloyd Streets intersection, reconstructing those roads and the installation of wastewater and stormwater infrastructure, as well as reconstructing Lloyd Street from County Road 4 to the limits of North Huron's developable land. Under the recommended schedule, Phase 1A would cost $3.9 million and begin in spring of 2022 to be completed by fall of the same year.

Phase 1B, which would cost $170,000 and start in spring of 2023, to be completed by fall of that year, would include continuing that reconstruction further alongside the developable land in addition to more water and wastewater infrastructure.

Phase 2 would cost $1.2 million and start in 2023 or 2024 and would include the reconstruction of Crawford Street south of its intersection with Lloyd Street to further run infrastructure throughout the area.

While council was anxious to start on the external portion of the project in order to make some of the lands in Hutton Heights developable, several balked at the idea of running infrastructure for the township's developable land. Council members, including Reeve Bernie Bailey and Councillor Chris Palmer, said that getting the services where they need to be was one thing, but actually taking part in developing the lands wasn't something the township should be undertaking.

"I have an uneasy feeling about how far we develop [the township-owned land]," Palmer said. "I'm [in favour] of getting services to the door through Phases 1A and 1B, but going into the internal costs, building roads and all that... is for the next person or company that buys it as far as I'm concerned. That's what we've done in the past."

Palmer said he was against moving forward with internal development, including the recommended action of pursuing a plan of subdivision with Huron County.

Councillor Anita van Hittersum, however, said this wasn't a time for half measures, and said she would prefer to get everything done as soon as possible. "Housing is needed," she said.

Vader said it was important to have a design completed for the development to help guide potential developers, or to sell off portions of the development to different developers.

"I'm not saying you would develop that, but finish the engineering design so it's ready to be developed," she suggested.
Councillor Paul Heffer asked what had caused prices in the project to change, and Vader explained there was more interest in the project from other developers than originally anticipated. This resulted in more potential lots to help shoulder the costs, she said, specifically highlighting parcels in Morris-Turnberry, across County Road 4 from Hutton Heights, that could tie in to the project.

Bailey eventually said he felt council wanted to proceed with Phases 1A and 1B, however he wanted to see the services run further south as he felt there were private lands that could be developed that shouldn't have to wait.

"We have two developers ready to develop as soon as they have water, so if we can get water to those developments in [Phases] 1A and 1B and get them going, we can talk about [developing North Huron-owned] lands another day," he said, before adding he agrees with Palmer and that North Huron isn't in the "building business".

Staff pointed out, however, that some of the developers Bailey was talking about would have to wait because they would be relying on infrastructure under roads that hadn't been created yet and wouldn't be created until later in the project.
Councillor Kevin Falconer said that the infrastructure in Phases 1A and 1B should at least be run to the property the municipality owns so council can start addressing that project. Bailey agreed, saying that would be even closer to some of the privately-owned developable land.

Deputy-Reeve Trevor Seip, however, pointed out the discussion was academic, without figures on how much extending Phase 1A and 1B would cost and how they would impact the other parts of the plan.

Eventually Bailey urged council to get the project started, saying that Phases 1A and 1B should proceed.

Council members agreed, with an eventual motion to receive the presentation, submit the necessary designs and applications and prepare to issue tender documents for the external works at the site including constructing infrastructure further east than the Wingham Pentecostal Church property on Lloyd Street than originally suggested to encourage development on neighbouring lands.