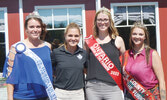 Olympian Staehli inspires Queen contestants at Plowing Match
BY DENNY SCOTT
Olympian, Commonwealth Games competitor and Lucknow native Julie-Anne Staehli visited the Huron County Plowing Match last week to speak to the Queen of the Furrow contestants about her recent experiences.

Staehli, who recently signed on with Team New Balance Boston, ran in the 5,000-metre race 2020 Olympics in Tokyo and recently competed in the 2022 Commonwealth Games in Birmingham, England for Team Canada. Given her successes, organizers of the plowing match were excited to have her return to Huron County and talk to the Queen contestants.

"I shared my journey from Lucknow to Tokyo and now to Boston, where I live," she said in an interview with The Citizen.
Staehli said she was able to draw a number of parallels between her own experiences and those vying for the Queen of the Furrow crown. First, she told the contestants they need to focus on the competition, which she said is the same regardless of the goal. Next, she said that it's important to remember why the contestants got involved and why they stuck it out and finally she said that, whether it's plowing or running, repetition is what leads to success.

She said she spoke with the contestants a lot about her lifestyle, training and motivation, and found common ground with them as they were vying for a position that, in other areas, might not be as exciting as it is in Huron County.

For Staehli, being an Olympian in Huron County is like being the big fish in the small pond when compared to larger cities where there can be hundreds of athletes. She said the same could be the case for the Queen of the Furrow. While Huron County brings out more contestants than many other areas, it is a relatively small population base for the competition, which Staehli understood.

"We had a great discussion about that," she said. "It's a unique situation for a lot of people."

Staehli will next take part in the Canadian five-kilometre Championships in Moncton, New Brunswick on Sept. 11 and the Scotia Toronto Waterfront 5,000-metre race on Oct. 16. For more information, visit www.jastaehli.com.