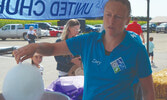 Onn named 2021 Brussels Citizen of the Year
BY SHAWN LOUGHLIN
The 2021 Citizen of the Year for Brussels and its surrounding communities is Huron East Councillor, local business owner and prolific volunteer Zoellyn Onn.

In recent years, Onn has been heavily involved in the Brussels community. She has served as president of the Brussels Lions Club and the Brussels Agricultural Society, while volunteering with the Brussels Horticultural Society and serving as the Lions Club's liaison to the Brussels Leo Club, which she was instrumental in reviving several years ago.

Onn is also a board member for the 5 R's Thrift Store and the Brussels 2022 Homecoming Committee and she spearheaded several initiatives in the community, such as the Fairy Door Trail, community choir group Sing Sing Sing (with Don Chesher and Jim Lee) and others.

Onn recently stepped in to manage the Brussels Farmers' Market after it lost its home at the Brussels Four Winds Barn. After a successful summer outdoors at Richmond Square, Onn said the market will return next year on a monthly basis.

Onn ran for Huron East Council in 2018, hoping to represent the Brussels Ward as a councillor, and was successful in her bid for the position. She is also the owner of Riverside Funeral Home in Brussels, which recently expanded to include a Blyth chapel.
After receiving nominations in previous years, Onn was nominated by several people this year for the award.

"It's a great honour. I'm so proud that Brussels has allowed me to be so participatory in the town," she said in speaking to The Citizen, adding that since she is a relatively new resident to the community, being recognized in this manner meant a lot to her.
The Citizen will present Onn with her plaque at a later date.

The Citizen of the Year Award winners are nominated by members of the community over the course of the year, with one award handed out in Blyth and one in Brussels every year. After the nomination period comes to an end, those names are then considered by the past five winners of the award, who then choose the winner. North Huron Publishing has proudly presented the award every year since it was founded in 1985, over 35 years ago.

Past winners of the award in the Brussels area are: Cal Krauter, 1985; Wayne Lowe, 1986; Jack Bryans, 1987; Ida Evans, 1989; Bessie Johnston, 1990; Betty Graber, 1991; George Langlois, 1992; Howard Bernard, 1993; Joanne King, 1994; Frank Thompson, 1995; Audrey Cardiff, 1996; Leona Armstrong, 1997; Neil McGavin, 1998; Beth Earl, 1999; Lyle and Alice Brothers, 2000; Nelva and Spence Scott, 2001; Jo-Ann McDonald, 2002; Kathy Bridge, 2003; Jeff and Cathy Cardiff, 2004; Clara Blake, 2005; Phyllis Mitchell, 2006; Doug McArter, 2007; Nora Stephenson and Fran Bremner, 2008; Rene Richmond, 2009; Jim Prior, 2010; Cathrine Campbell (posthumous), 2011; Jim and Lois Lee, 2012; Yvonne Knight, 2013; Dave Stephenson, 2014; Sandra Cable, 2015; Jean Davidson, 2016; Elaine Armstrong, 2017, Doug Sholdice, 2018; Mary Douma, 2019 and Bob Kellington (posthumous), 2020.