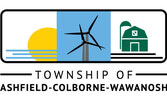 Opposition to new gravel pit persists in ACW
BY SCOTT STEPHENSON
There was a lively session of Ashfield-Colborne-Wawanosh (ACW) Township Council on Tuesday, May 16, as members of the public shared their concerns about possible expansions to aggregate mining operations in ACW. Opponents of the proposed gravel pits coalesced in council chambers to speak about the risks they perceive to be associated with the expansion of industrial mining in the area, especially near the Maitland River.

ACW Mayor Glen McNeil invited citizens to speak during the meeting's open forum. Benmiller's Wendy Hoernig shared her concerns about the possibility that excessive gravel mining in the area could result in water contamination. Hoernig also expressed worry about possible negative consequences for the local tourism industry, saying, "it would be complete idiocy to unnecessarily destroy a well-known, much-loved feature that attracts tourism and tourist dollars." Hoernig concluded her remarks by urging council to slow down on authorizing new mining operations, advocating for a comprehensive environmental assessment of the area and reminded everyone that water is essential to all life on Earth.

Area newcomer Laurie Scott used a map of existing local mining operations as a visual aid to help illustrate her belief that more gravel pits in Ontario are not necessary. Scott said she intends to protest against the expansion of aggregate mining in the area and encouraged others to join her.

Gina McDonnell rose to speak as an official delegation at the meeting. McDonnell displayed video footage recorded from a camera-equipped drone that flew over ACW's existing gravel mines, an area dubbed by McDonnell as "aggregate alley", to illustrate the size and scope of ACW's existing pits. McDonnell is fearful that approving more mines will reduce the supply of quality farmland in the area. "In ACW we're losing more farmland to extraction than we are to development."

McDonnell suggested to council that they should consider implementing an Interim Control By-Law (ICBL) to prevent the authorization of new mining operations in ACW for up to two years and asked for council to direct staff to prepare a report on the potential use of ICBLs locally.

Councillor Jennifer Miltenburg showed support for McDonnell's request, saying, "I am intrigued by the idea of the [ICBL] but I would like to hear a staff report on that." Deputy-Mayor Bill Vanstone echoed Miltenburg's comments.

McNeil requested a show of hands for those who would support directing staff to prepare a report on the potential use of ICBLs, resulting in majority approval.

Rebecca Garrett, one of the leaders of the "Friends of Ball's Bridge and Little Lakes" activist group, was also present at the meeting. In a quick post-meeting interview with The Citizen, Garrett said she was disappointed that the speaking efforts did not result in a motion from council, but was pleased that several voices from within the community were heard on the issue.