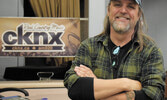 Phil Main to lend musical talents to Little Lakes community event
BY SCOTT STEPHENSON
The Save Historic Ball's Bridge and Little Lakes Road community group is making a concerted effort to protect the unique piece of Huron County known as the Little Lakes area from the encroaching expansion of an aggregate mining operation. The group is holding a concert on Sept. 21 at the Huron County Museum in order to raise funds for the fight against the possible mine expansion, which members believe will be very detrimental for the ecosystem. The concert will feature Goderich-based Renaissance radio personality Phil Main and 'Hometown Harpist' Alexa Yao, a 13-year-old harpist who chooses to use her considerable talents to support local causes she feels are important.

The Citizen sat down with Main in between segments of his morning radio show to talk a little bit about himself and a lot about how much he loves living in this area.

For Main, priority numero uno is opening people's eyes to the beautiful things that can be found all around midwestern Ontario. "You can live in a place and just totally miss it because you're going through life with blinders on," he explained. "I'm trying to take the blinders off, and look around at where we are and how lucky we are to live here." The Ball's Bridge area in Ashfield-Colborne-Wawanosh is one of the Huron County things he counts himself lucky to have experienced. "It's a refuge for a lot of people," he said. "It's a place to go for quiet, and the people who are trying to save it deserve to have their voices heard."
Born in Welland, Main and his family moved to Goderich when he was six years old. He attended elementary and high school there, eventually encountering Huron County's favourite musical married couple, Warren and Eleanor Robinson. The long-time teachers have had a prolific career writing and directing plays, but are probably best known for co-creating the annual community collaboration that is Kingsbridge! The Musical. They are also instrumental to the enduring success of Goderich's Celtic Roots Festival. Main considers himself lucky to have received guidance from these legendary educators. "Warren Robinson taught me my first song on guitar," he said. Main attributes those early experiences with music and high school drama to helping him to find his inner artist.

After considering pursuing a career in acting, Main left Goderich to learn the trade of radio broadcasting at Fanshawe College in London, always hoping to return someday and use his newfound skills to benefit the community he loves so much. He believes that a radio DJ should use his platform to draw attention to causes that matter to the listeners. "You can settle into a community, and help make changes and bring things to people's attention and do good that way, and that was always my dream: to come home."

After he finished school, Main spent several months in Hamilton doing an all-night radio show. This led to a few years in which he played in bands and furthered his musical education, before finally realizing his dream and settling back in the area for good in 1990 to pursue a career in broadcasting.

Main has travelled to many beautiful destinations over the years, from Italy to Guatemala, but to him, nothing beats coming home. "Every single time, when I come home with fresh eyes and go to the beach to see the sunset or even just drive around The Square, I look around where we live and think 'My God, we live in the most beautiful place that I've been. We're really, really lucky to live here. And there are a lot of amazing people here too."

Main's most recent endeavour is a podcast called A Life That's Good - a weekly chronicle of all that is enjoyable about living in Ontario. It was born out of his self-imposed challenge to document 65 things he loves in the 65 weeks before he turns 65. Putting together the whole podcast on his own takes a lot of work, but he couldn't be happier to be doing it. "It's like I've taken myself back to the beginning of my career, in terms of trying to build a following, but it's the most exciting thing I've done in decades. It takes me back to my AM 920 days…. That's basically what a podcast is - talk radio! It's really what led me to the whole Ball's Bridge thing. I wanted to give a voice to the community."

Though it's been a while since he's performed live, the much-loved local radio man/musician is excited to be lending his talents to the cause of conserving the Ball's Bridge area for this and future generations to experience. If you'd like to support the cause, or just listen to some great local musicians as they support their community, check out the Fundraiser to Defend Ball's Bridge and the Little Lakes Area Concert at the Huron County Museum at 110 North Street in Goderich on Thursday, Sept. 21 at 7:15 p.m. Tickets cost $25 each. Food and refreshments will be provided by Huron County businesses, including Maitland Market, The White Carnation, Meeting Place Organic Farm and Firmly Rooted Organic Farm and are included in the price of your ticket.