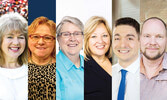 Provincial candidates answer 'Citizen' questions ahead of election
Just ahead of the June 2 provincial election in Ontario, The Citizen sent each candidate the same seven questions to help readers learn more about the candidates and where they stand on the issues of the day.
Below are the answers from incumbent MPP Lisa Thompson of the Progressive Conservative Party, Shelley Blackmore of the Liberal Party, Laurie Hazzard of the NDP, Matthew Van Ankum of the Green Party, Matt Kennedy of the New Blue Party and Gerrie Huenemoerder of the Ontario Party. Bruce Eisen of the Ontario Alliance and independent Ron Stephens did not respond by the deadline.
Just a reminder that the views presented by each candidate are their own and do not necessarily reflect the views of The Citizen or North Huron Publishing.

1. Tell our readers about yourself, your political experience and your community involvement.

Lisa Thompson, PC: Over the last decade, I have appreciated the support of the residents of Huron-Bruce. I have and continue to make significant efforts to ensure everyone at Queen's Park knows that Huron – Bruce matters.
This election is about building the right economic conditions to attract investments and growth, to ensure that our children and our grandchildren have a future full of opportunities. It is about growing our workforce and investing in infrastructure. It's about building more homes so that families can live, work, grow and retire in this beautiful part of the province. And I, and the Ontario PC party understand that.
I have been honoured to serve as the MPP for Huron-Bruce and as a cabinet minister. Huron-Bruce constituents can trust that, in me, they have a strong, respected voice at the cabinet table. If re-elected, an Ontario PC government will continue to put the growth and success of Huron-Bruce's agricultural and small businesses at the forefront.
There is more to do and I will get it done.

Shelley Blackmore (Liberal): My name is Shelley Blackmore, and I am a retired principal. I worked for the Avon Maitland District School Board for 38 years. My husband, David and I live on a farm in Howick Township. We have three children and six grandchildren. I have travelled extensively and enjoy learning about other cultures. In my leisure time, I ride my horse, and I am an avid hiker, currently hiking the Bruce Trail.
As a volunteer, I have been on the Board of the Huron Perth Centre for Youth and Children, the North Perth Community of Character, and held leadership roles as a volunteer for the United Way Perth-Huron. My husband and I were foster parents for the Huron Perth Children's Aid Society. In all of these roles, I have been an advocate for those who need help, and I see my role as your MPP in much the same way. I don't have all the answers, but I know where to find them and I'll work hard to find solutions for my constituents.
I have a good understanding of agriculture, having lived on two farms, raising sheep and horses. As a mother and a grandmother, I am passionate about protecting our environment and way of life for future generations. I have a proven track record of following through for those who need my help. I have the experience, energy and leadership skills to best represent our beautiful riding of Huron-Bruce.

Laurie Hazzard (NDP): My name is Laurie Hazzard, your NDP candidate for Huron-Bruce.
I'm running to be Huron-Bruce's next MPP because I love this riding and province, and I believe in its promise. I know that together, we can get back on track and finally fix what matters most.
I was a nurse for nearly 15 years and made a career change to a teacher where I taught at Seaforth High School and later became vice-principal there. In 1999, I led a team as principal to set up the first full service online secondary school in the province: the Avon Maitland Distance Education Centre. In 2004, I joined the Ontario Ministry of Education where I helped develop the province's eLearning strategy and oversaw the development of Kindergarten to Grade 12 digital resources for our public schools.
Since I retired, I've spent it giving back to my community of Bayfield, where I've lived for the past 25 years. I'm a member of the Bayfield Ukulele Society and during the pandemic ran a Zoom ukulele program for the Huron County Alzheimer's Society. I'm also part of a team leading a new grassroots movement called "Blue Schools", a project to promote education about the global water crisis.
My entire life has been dedicated to improving the lives around me. Huron-Bruce deserves an MPP who will work to improve their lives, not cut billions from health care and education.

Matthew Van Ankum (Green): I am a farmer in northern Huron County. I love trees, fresh air, sunshine and a good barbecue. I live with my wife Danielle of 18 years, my two boys and a house full of Great Danes. My 100-acre farm has cattle, sheep, pigs and chickens making up the mix. Farm products are "direct" marketed or sold through restaurants and delis, supporting regenerative agriculture. I enjoy carpentry and do-it-yourself stuff around the house. I have built my first timber-frame cabin and I look forward to another slightly bigger project.
I attended the University of Guelph, class of OAC 97, majoring in Environmental Biology. The war in the Ukraine and the DGR proposed for storing nuclear waste by Teeswater have both encouraged me to become more involved in politics. I value knowledge of both local and global conflict, how they are interrelated and how important it is for the community to be aware of conflicts, working together towards resolution and a better world for children.

Matt Kennedy (New Blue): I was born and raised in Kitchener where I grew up in a family of hard-working people who impressed upon me the duty to serve your community. I attended Conestoga College and earned my Certified Financial Planner designation while working for one of Canada's largest life and health insurance companies in product development. I had always possessed a very strong desire to serve my community as a police officer and realized a life-long dream when I was hired in 2019.
I currently live in Exeter with my wife, Janie, and our beagle, Ella. We enjoy exploring the beautiful shores of Lake Huron.

Gerrie Huenemoerder (Ontario Party): I was born and raised in rural Ontario. I love the country and small communities. I am an entrepreneur and business owner and have been most of my adult life. I am a mother of three adult children and a grandmother of two.
I ran in the 2018 election because I was very concerned about where our province and country is heading. I am much more concerned now four years later. I see a huge erosion of freedoms and I am very concerned for the future of my grandchildren when it comes to having the opportunity to live in a country with opportunity and freedoms.
That is why I am running, to be able to help the people of Ontario get back some of the freedoms that have been taken from them and be able to take Ontario back. It's about family, freedom and community.

2. As Ontario continues to rebound from the COVID-19 pandemic, what do you propose to jumpstart the economy and ensure a prosperous future?

LT: Behind every small business is an entrepreneur with ambition and determination, enriching the lives and livelihoods of families and communities across Huron-Bruce. That is why the Ontario PC Party has a plan to continue to support small- and medium-sized businesses that have been acutely impacted by the pandemic.
If re-elected, we will develop Ontario's Entrepreneurship Strategy, that will set out a bold vision to position the province as the fastest and easiest jurisdiction to start up, sustain and scale up a business. This will be complemented by a plan to recruit 100 entrepreneurs to start or grow businesses in regions outside of the Greater Toronto Area, while in areas like Huron-Bruce, we'll expand access to start-up and growth capital through Venture Ontario.
We're also helping businesses transform, through programs made popular by champions like Jan Hawley, such as the Digital Main Street Program, which has already helped 41,000 businesses across Ontario increase their online presence.

SB: In Huron-Bruce, small- and medium-sized business have been the backbone of our economy, but during the pandemic, the frequent closures were devastating for this sector. We will eliminate corporate taxes for small businesses hurt by the pandemic for two years. We'll also loan an additional $300 million to tens of thousands of small business and fund programs that help them go digital and reduce regulatory burdens on small businesses. We will eliminate incorporation fees for new business start-ups and launch a one-stop, 311-type service to help businesses navigate government supports.
Significant for Huron-Bruce, we will help the agri-food sector to export more goods. We will support the recovery of restaurants by eliminating HST on prepared foods under $20. We'll make strategic investments in hard-hit industries like tourism, music, culture and sport.

LH: Tourism and small business are core parts of Huron-Bruce's economy. They are also two areas that were impacted the hardest in the pandemic.
We will work with the small business community to develop and deliver the support they need to recover and create good-paying jobs.
We will bring in two rounds of the Small Business Recovery Grant, with one payment in 2022 and another in 2023. We'll ensure that, unlike under Premier Doug Ford, our program is responsive to business owners, and payments are disbursed in a timely manner.
To ensure our tourism communities can thrive, the Ontario NDP will provide a second round of the Tourism Recovery Program to help businesses recover and hire staff. We will also encourage Ontarians to travel within the province and support local tourism by extending the Staycation Tax Credit for another two years. We will evaluate the success of the program at that point and decide whether to make it permanent.
Festivals also play a huge role in the economies of our communities. We will increase festival funding and work closely with performing artists and cultural workers to develop a recovery plan that gets the sector back on track.

MVA: The real problem is inflation; today listed as 6.8 per cent but it feels like 20 to 30 per cent for the average person. Gas, real estate, rent and groceries are all major challenges for today's families. Wages need to match inflation. Those on fixed incomes must be guaranteed to be able to afford groceries and housing.
After pandemic lockdowns, I do believe that the economy is recovering at a quicker pace than expected, but not without challenges as described above. Small business owners involved in agriculture, construction and energy are doing very well. The impact of the pandemic was particularly felt on businesses that were not able to open and compete against the bigger box stores that rely on cheaply-sourced labour and materials. We need to, more than ever, encourage local economies, living wages and sustainability. We need to address the challenges local economies face emphasizing their uniqueness in terms of lower transportation costs, locally-sourced labour and materials as well as smaller "footprints" they afford.

MK: Even before the COVID-19 pandemic, Ontario's economy had been hamstrung and handcuffed by years of over-regulation, over-taxation and high energy costs. Businesses have increasingly been leaving Ontario for greener pastures. One of the first things the New Blue Party would do is scrap Doug Ford's industrial carbon tax and present real opposition to the federal carbon tax.
We believe in promoting a fair and free market economy without unnecessary government intervention and supporting unsustainable industries through government welfare. We would seek to de-regulate many industries in order to allow businesses to flourish and thrive, hiring more employees and growing our local economies.

GH: The Ontario Party believes an environment that fosters small business must be created. First, all expenses relating to starting a small business would be cancelled. Red tape and government overreach in the form of bureaucracy must be cut back. Taxes must be lowered. Energy costs need to be lowered. It's very hard to attract business when energy costs are extremely high.
There would be incentives in the form of grants to assist in business start-up. Rental assistance, putting a business online, teaching social media skills and assistance with other facets of starting a business. There would be incentive programs for existing businesses from loans to assistance in areas that would be identified to be of importance to small business. We would also offer OSAP grants to students entering into post secondary education in fields that are known to be in demand. This would help to get the needed workforce educated.

3. With the cost of living rising dramatically, how would you help make life more affordable for the average Huron-Bruce family?

LT: Global challenges, combined with a suite of federal Liberal policies, are driving up inflation and the cost of living for Ontarians and the residents of Huron-Bruce. The Ontario PC government is doing its part to make life more affordable, because we know that the most important economic decisions are made around the kitchen table.
If re-elected, we will enhance the LIFT Tax Credit, that would provide an estimated $320 million in additional personal income tax relief to about 1.1 million taxpayers. We're cutting the gas tax by 5.7 cents per litre and the field tax by 5.3 cents per litre, to save you more money at the pumps.
The Ontario PC government has also eliminated and refunded licence plate renewal fees, so that you have more money in your pockets. And, unlike the Liberals, who would have settled with the first offer, we now have the best childcare agreement in the country, and by September, 2025, the average cost of childcare in Ontario will be $10 a day.
And we're making it easier for seniors to age at home safely. If re-elected, a PC government will introduce a Ontario Seniors Care at Home Tax Credit, that would allow seniors to receive up to 25 per cent of their claimable medical expenses up to $6,000, for a maximum credit of $1,500.

SB: Ontario Liberals have a balanced, progressive and fully costed plan to help families with rising costs. We will remove HST on all prepared foods under $20, we will re-introduce rent controls, eliminate interest on student loans and we'll reduce average fees for childcare costs from $50 per day to $10 per day, making childcare discounts retroactive to Jan. 1, 2022, so parents aren't punished by the Ford government's failure to act on the federal deal. We'll help those who need it most, with a 20 per cent increase over two years for those on ODSP, $1,000 pension top-up for seniors, and increase the minimum wage to $16 per hour, working towards a living wage. We will commit to the gas tax cut planned for July 1.

LH: For too many families in Ontario, it is getting harder and harder to pay the bills and make ends meet. Doug Ford has made life more difficult; whether it's freezing the minimum wage, scrapping student aid or canceling Ontario's drug program. We need a plan to really make life more affordable.
In addition to our plan for making buying and renting a home more affordable, the Ontario NDP is committed to making life more affordable.
Our plan includes working with the federal government to achieve $10-a-day faster and ensure we're expanding non-profit and public childcare centres to ensure families can get the childcare they need.
Gas prices are at an all-time high. We'll direct the Ontario Energy Board to regulate the retail price and wholesale mark-up of gas to stop big oil companies from gouging Ontarians. We'll ensure prices are fair, stable and competitive, regardless of where in the province you live.
Every Ontarian deserves a well-paying job. We will raise the minimum wage to $20 in 2026, with stable and predictable annual $1-an-hour increases.
Doug Ford broke his promise to Ontarians to reduce hydro rates by 12 per cent. We have a plan to start fixing the electricity sector. In addition to expanding clean renewable energy, we stop privatization and expensive private power contracts. We'll also bring in an ambitious energy efficient building retrofit program to help families and businesses with the cost of retrofitting their homes and lowering electricity bills.

MVA: Again, wages must keep up with inflation and keep globalization in check.
For example, gaining independence for energy production will give you options: your own solar panel and battery bank, perhaps an electric vehicle are examples of a good starting point. The Green Party will help out with cash incentives up to $10,000 for buying a fully-electric vehicle and $1,000 for an e-bike or used electric vehicle. More incentives and lower price points around alternatives are needed.
Continued focus on housing affordability, sustainable economies and local community codependence will all trickle down to make life more affordable for the average family.
To put more money in people's pockets is not as easy as reducing taxation. Reducing taxation will lead to other challenges, like reduced childcare options or worker benefits. Cutting some of the red tape faced by smaller businesses will save labour time for the family unit engaged in such a setting.

MK: We're all paying too much tax. The New Blue Party would reduce the HST from 13 per cent to 10 per cent, offering immediate relief to all Ontarians. Another contributor to the average family's cost of living burden is the price of electricity. Ontario taxpayers have, for years, been paying unnecessarily high electricity prices due in part to the terrible wind turbine contracts signed by Kathleen Wynne's government. The New Blue Party would cancel the wind turbine contracts and dismantle the wind turbines, resulting in an immediate reduction in electricity prices.

GH: The Ontario Party would reduce the Ontario portion of gas taxes on gasoline and also get rid of the Ford government's own carbon tax that was pushed on large businesses that then trickled down to the consumer.
We recognize the high cost of rentals because of the lack of rental housing and the high cost of home purchasing. We have incentives to assist the first-time buyer in a home purchase. The Ontario Party will also allow multiple unit dwellings where the Ford government would not. Promoting market farming and farm-to-table products, buying locally-made goods where possible would decrease costs for many items.

4. Housing affordability is a major issue and the Huron-Bruce region is in the midst of a housing crisis. How would you work to help people get a roof over their heads?

LT: Everyone in Huron-Bruce deserves to find housing that is right for them. That's why the Ontario PC Party is committed to delivering on the Housing Affordability Task Force's target of building 1.5 million homes across Ontario over the next 10 years. That will mean more homes in our fastest growing communities, like Kincardine and Saugeen Shores.
While other parties are talking about big ideas, it is a PC government that is getting it done. We have helped create the right conditions to get more homes built faster, with 2021 seeing the highest level of new housing starts in over 30 years. However, we recognize that more must be done.
If re-elected, a PC government will continue to reduce red tape to build more homes, make it easier to build community housing and protect homebuyers, homeowners and renters.
We are committed to working with the municipal sector to develop a data standard for planning and development, so that new homes spend less time in municipal development offices and more time being built. I sincerely appreciate the leadership we have at the local municipal level, ranging from a commitment to backfilling settlement areas to exploiting the viability of one additional residential unit on a property, as all options to increase housing choice are considered.

SB: The housing crisis is the number one issue I'm hearing across the riding. We will build 1.5 million new homes over the next 10 years, which will include at least 138,000 units of much needed supportive housing and retain and repair tens of thousands of existing homes, creating an estimated 150,000 jobs per year. We will tax homes currently sitting empty, ban new non-resident ownership, put a use-it-or-lose-it tax on developers' land sitting empty and establish the Ontario Home Building Corporation to finance and build affordable homes.
We'll provide municipalities and housing support providers with $100 million per year to promote a housing-first approach to ending chronic homelessness. We will bring back rent control to all homes across Ontario to ensure all renters have smaller, more predictable rent increases, and provide renters with a path to ownership by creating a legal framework that protects renters to opt into rent-to-own agreements.

LH: Affordable housing in this province is a huge issue. In Huron-Bruce, people don't only struggle to find an affordable house to buy, but rental options are also out of financial reach for many.
The Ontario NDP has released its concrete, doable plan to fix the housing crisis. We'll work hard to ensure every Ontarian has a decent, affordable place to live, whether you're renting or buying.
The first thing we will do is establish a new public agency -Housing Ontario - to build 250,000 affordable homes that are operated by public, non-profit and co-op agencies, not greedy speculators. We will also build an additional 30,000 supportive housing units for people living with mental health and addiction challenges.
We will introduce an annual speculation and vacancy tax on residential property. Modeled after British Columbia's tax, it will apply to all speculators who own houses they don't live in. The rate will be two per cent of the assessed value and will be phased in over two years. We'll also maintain the non-resident speculation tax (NRST) at 20 per cent and close loopholes that allow wealthy investors off the hook.
For renters, we will create a portable housing benefit to assist over 300,000 families who can't afford their rent in addition to basic necessities for themselves and their families.
We will also bring back real rent control for all apartments, eliminating the financial incentive for landlords to squeeze out tenants to raise the rent. We will also ensure that you pay what the last tenant paid by scrapping vacancy decontrol.

MVA: There were 100,000 housing starts and 13,000 rental starts in Ontario in 2021. This increase is significant. The cost of lumber, wiring, roofing steel, windows, kitchens and doors have all gone up by 35 per cent or more. A labour shortage exists, therefore wages go up, land in the country is harder to find and building lots in town are more expensive. Because of this, we are now looking at a situation where a 1,700-square-foot detached home is running around $500,000.
Let's say for simplicity's sake it costs $500 per month to borrow every $100,000. Therefore, to afford this house you need at least $5,000 a month of disposable income. The government manages to take about one-third of your paycheck each week you have to gross around $90,000 per year. Not everyone is in this situation.
In my opinion, we need to build smaller, more affordable starter homes so that families can enter the real estate market earlier and not find themselves perpetually paying rent. If you peruse MLS today, a small family home around $200,000 and $300,000 is not a reality. Entry-level housing is key to get families into home ownership.

MK: For years, successive governments have promised to build millions of new homes without any measurable impact on housing prices and always falling short of lofty promises. Housing is talked about as if it is a problem that exists in a vacuum, and that it will only take more government spending or some other easy solution to fix. The reality is that housing is affected by many factors. The common denominator to working towards increasing housing affordability and availability is to build a strong underlying economy.
Families are barely getting by due to inflation and a lack of real wage growth; businesses have been over-regulated and locked down over and over again by our current government. We need to immediately reduce the tax burden on families and small businesses while creating a more favourable climate for businesses to grow our economy and work to ensure homebuilders can continue to build new supply.

GH: The Ontario Party recognizes the high cost of rentals because of the lack of rental housing and the high cost of home purchasing. We have incentives to assist the first-time buyer in a home purchase. The Ontario Party will also allow multiple-unit dwellings where the Ford government would not. Specifically, through prohibitive zoning regulations in many urban areas, Ford's government prevents construction of family dwellings that are not single-family homes. Duplexes and fourplexes are forbidden where they are most needed.
Allowing tiny home developments on unfarmable land would also be an option made available by changing zoning bylaws and bureaucratic red tape. Allowing multiple housing on farms and allowing more land severances by changing current policies would also allow for more housing.
Changing immigration numbers coming into Ontario, that currently receives about 50 per cent of new immigrants while the necessary infrastructure is not prepared to handle this influx would also allow a catch-up of housing, reducing costs.

5. Health care and long-term care in Ontario need help as the pandemic continues. What would you do to set this sector up for success moving forward?

LT: As part of the Ontario PC's commitment to building a stronger healthcare workforce, if re-elected, our government will invest $142 million to recruit and retain health care workers in underserved areas. We will immediately provide $81 million in funding to expand the Community Commitment Program for Nurses for up to 1,500 nurse graduates each year to receive full tuition reimbursement in exchange for committing to practice in an underserved community. If re-elected, we will also launch the new $61 million Learn and Stay Grant, for 2,500 eligible post-secondary students to enrol in priority programs like nursing to work in undeserved communities in the region where they studied after graduation.
These investments build on the actions we have already taken to invest $342 million to add 13,000 workers to Ontario's healthcare system, including 5,000 new registered nurses and 8,000 personal support workers.
The health care system in Huron-Bruce will directly benefit from these targeted investments address the health human resources challenges that rural communities like ours are facing.
If re-elected, a PC government will also make it easier and quicker for foreign-credentialed health workers to begin practising in Ontario by reducing barriers to registering with and being recognized by health regulatory colleges.

SB: We know that rural healthcare has its own challenges and needs a model that reflects our rural reality. The Ontario Liberals will ensure that rural Ontarians have access to the same quality of healthcare, education and opportunity as the rest of the province. We will invest in additional health services and cover tuition costs for medical and nursing students willing to work in rural communities to ensure everyone has access to a family doctor or nurse practitioner. We will remove the barriers that prevent internationally trained professionals from working in our system.
We will repeal Bill 124 and ensure that our nurses are paid a fair wage and have full-time positions. We'll train and hire 100,000 nurses, doctors and other healthcare workers over the next six years as we replace retiring workers and expand our system. Our investment in home care of $2 billion annually will relieve some of the pressures on our hospital systems as well.
What happened in long-term care during the pandemic was shameful. Infection control was difficult because we don't pay personal support workers (PSWs) enough and provide permanent jobs, so many have to work at several homes to make a living. We will immediately raise PSW wages to a minimum of $25 per hour and provide free tuition. We will create a model where seniors can live in their homes as long as possible with our investments in home care and grants for retro-fitting homes for safer living.
We will end for-profit long-term care with a target of 2028. New assisted living homes will be small, accessible and community based. Full-time positions will provide seniors with the ability to have strong relationships with their caregivers, which is so essential for their health.

LH: It's getting harder and harder for Ontarians to get the healthcare they need and the pandemic exposed just how broken our healthcare system is. Ontario has a health human resources crisis. The Ontario NDP has a practical, doable plan to rebuild and strengthen health care in Ontario.
Our plan includes taking immediate action to begin hiring 10,000 PSWs and 30,000 nurses - numbers that healthcare experts say we need. We will immediately eliminate Bill 124 (Ford's salary cap bill) and give healthcare workers the wage they deserve. Increasing our supply of nurses will include expediting recognition of nursing credentials of 15,000 internationally trained nurses.
Another part of our plan includes raising hospital funding to exceed health sector inflation, population growth, expanded operating plans, and unique local needs such as aging populations.
We have the right plan to fix our broken healthcare system.

MVA: The past two years have shown us just how much we rely on caring professionals in healthcare, education and social services to get us through. But neglect and half-measures from years of successive governments have strained services we rely on every day.
Getting help when you need it should not be this hard. Whether you're a senior citizen waiting two years for a knee replacement or a person with a disability trying to survive off $1,169 per month, the system is broken. The pandemic exposed the giant chasms in our healthcare system, leaving our ICUs overrun and our elders dying alone. Stopping the bleeding will take more than a band-aid.
As well, our vision for Ontario is one that clearly states that mental health is health. Bringing more mental health services under OHIP will mean that people can afford and can access the care they need.
Our vision puts the dignity of people ahead of private profits or government red tape. If we are going to call nurses, PSWs and educators heroes, then let's pay them that way. If we want to keep our hospitals stable, then let's treat illnesses before they become an emergency.

MK: It is inexcusable that our hospitals fired doctors, nurses and other staff during a pandemic. Equally inexcusable was the silence from our current government and that it didn't defend the rights of those and other employees who worked tirelessly through the worst of the pandemic only to be fired or put on unpaid leave. The New Blue Party would immediately see that all employees affected by vaccine mandates are re-hired and compensated. Through legislation we would codify that divisive, discriminatory vaccine mandates and passports could never happen again.
Healthcare is one of our largest tax expenditures and yet we consistently rank too low compared to our global peers. A thorough review of our healthcare system needs to happen in order to look at how to deliver more frontline care to Ontarians.
We need to allow for more choice and support alternative care providers, such as naturopaths. The strain on our hospitals can be simultaneously helped by working to keep more people out of them. This can be done by providing more funding for in-home care providers and support. We need to shift from a predominantly reactive model of medicine to a more proactive one by promoting long-term health and rewarding those who take ownership of their health and wellness.

GH: The Ontario Party would ensure that those who lost their jobs by exercising their medical rights to freedom would be rehired if they choose to return to those jobs and professions. Promoting free tuition for nurses, PSWs, doctors, lab technicians, etc. in exchange for working in rural areas would be available. An overall review of expenses and spending in hospitals and long-term care must be reviewed. There is a substantial amount of wasteful spending that could be curbed and used for patients needs. There would be a review of excessive profits by long-term care operators and the Ontario Party would remove the clause preventing long-term care homes from being sued for neglectful treatment of patients, as was initiated with the Ford government.

6. With the ongoing pandemic and conflict in Ukraine dominating the news, many feel the state of our climate has been ignored. What would you do to ensure future generations will inherit a sustainable Ontario?

LT: An Ontario PC government is committed to protecting Ontario's natural environment, and we have a strong track record of delivering on that commitment. After all, it was a Progressive Conservative government that created the Ministry of Environment and it was a PC government that shut down coal-burning power plants.
Over the last year, the Ontario PC government has invested $6.7 million in valuable green infrastructure, as well as the restoration and enhancement of approximately 150 wetland projects across the province, which are improving water quality, preserving and increasing habitats for endangered species, helping to prevent flooding and building climate change resiliency in the Great Lakes watersheds and waterways.
We have also invested $1.9 million in the Great Lakes Local Action Fund, to supportive innovative projects that focus on protecting and restoring coastal shoreline and nearshore areas of the Great Lakes, including the beautiful Lake Huron.
With the help of our partners, municipalities, and conservation authorities we are stepping up conservation and climate efforts across the province, helping to secure a greener and cleaner future now and for generations.

SB: The impacts of climate change are already here and they're very real for families who have to pay for flooded basements or farmers dealing with more severe and unpredictable weather. Our Ontario Liberal plan will cut greenhouse emissions by 50 per cent below 2005 levels by 2030. We will ensure that the biggest polluters that emit more than 50,000 tonnes of greenhouse gas, which include cement, chemicals and petroleum refineries, pay more carbon tax, and that money will go to support technological investments through our Green Jobs fund for grants, tax credits and loan guarantees to achieve those reductions. These investments will create 25,000 made-in-Ontario clean technology and green jobs.
We will increase carbon tax rebates for farmers who still need to rely on fossil fuels for heating and cooling barns and grain drying.
Just 10 per cent of land in Ontario is designated as protected space. We will increase that to 30 per cent by 2030 by expanding the size and number of provincial parks (creating five new ones) and conservation areas, particularly in the boreal forest.
We have a long-term energy plan that includes the most cost-effective mix of nuclear, hydroelectricity and renewables.
We'll make it safer and more affordable to walk, bike and drive by providing $500 rebates on e-bikes and provide communities with $100 million annually to build separate bike lanes, cycling trails and bike-sharing programs. We will boost the automotive sector to continue to build electric vehicles and provide $8,000 in rebates on the purchase of vehicles costing up to $68,000, and rapidly expand the availability of charging stations throughout the province.

LH: The reality of climate change is already here. Ontarians need to know that our children and grandchildren will be able to enjoy the clean air, drinking water and beautiful natural spaces of previous generations.
We have a plan to reach net-zero emissions by 2050 including replacing the Trudeau/Ford carbon tax with a made-in-Ontario cap-and-trade system that makes big corporate polluters pay for their emissions, rather than farmers paying for grain drying, ensuring hard-working Ontarians in rural areas are not unfairly penalized. Twenty-five per cent of cap-and-trade revenue will go to support rural, and low-income families disproportionately impacted by carbon pricing.
To have youth help create their sustainable future, we will create a Youth Climate Corps - giving young Ontarians the opportunity to get hands-on skills and experience restoring and enhancing Ontario's natural landscape, while earning a fair wage, and a fee credit towards their post-secondary education.
We will also expand access to parks and green spaces (including the Greenbelt), while increasing protection of ecosystems and biodiversity and plant one billion trees by 2030.
We'll ensure our transition to a net-zero economy creates over a million good jobs in Ontario.

MVA: By definition, the Green Party is directly behind the push for sustainability, understanding how carbon-dependent our economy is and finding different ways to doing things in order to reduce their energy footprint.
Without a common goal such as sustainability, humanity is likely to fail. I have received a lot of e-mails from the climate resiliency people and they are worth a read (ontarioclimateemergency.ca and greenresilience.ca/final-report).
The role of the government should be to put in place policy and practices that are best for the "average family" and the land and water we occupy. How seriously you take change in climate or a situation where we are considering placing all of Canada's high level nuclear waste in Teeswater is perhaps a personal opinion or decision, but we need a protector for the "good of all".
MK: Farmers have always had a vested interest in living sustainably on and caring for their land. Rather than becoming increasingly beholden to international treaties and accords that see more of our tax dollars wasted on pet projects like the Liberal wind turbine fiasco that fail to deliver real value, we need to focus on local sustainability and empowering those who live on and are already good stewards of the land.
We can research and invest in sustainable, economically viable renewable energy technology while continuing to improve the efficiency and cleanliness of traditional sources. Nuclear will continue to play an important role in our energy needs today and, in the future, but we must respect the wishes of local communities opposed to burying nuclear waste in the Great Lakes basin.

GH: The Ontario Party has true green environmental policies that would be initiated to preserve clean air, water and soil. These elements are of utmost importance for long term sustainability. More initiatives, such as dehydration of sewage turned into fertilizers, as is done in Hanover to prevent sewage from being dumped in our waterways should also be explored, including the promotion of new heating and cooling technologies with incentives to switch. More garbage incineration. Planting more trees, promoting gardens and shopping local are all sustainable initiatives.

7. Education has been interrupted repeatedly due to the pandemic and that unpredictability has taken its toll on students. What's your plan to improve education in Ontario for the future?

LT: The best thing we can do for our students is prepare them for the jobs of the future. That is why we have updated students' curriculum to focus on financial literacy and are building up skills that students will need in order to succeed.
While the Ontario Liberals closed 600 schools during their 14 years in government, we are building, expanding and renovating schools in Ontario to help current and future students learn and develop. The PC government has committed to investing $14 billion in capital grants over 10 years to support school infrastructure, and I can confirm that some of that investment will be committed to fast-growing communities in Huron-Bruce as well.
If re-elected, a PC government will also launch a new pilot program to collaborate with school boards to expedite construction using rapid, modular building methods, so that students can take advantage of new and updated schools sooner.
These investments will leave a lasting legacy and benefit families, children and teachers for years to come.

SB: As a retired principal, education is a top priority for me, and our students suffered greatly during the pandemic.
The Ontario Liberals met with all stakeholders to develop a comprehensive plan for education. We will immediately scrap the plan to build Highway 413 and put that $10 billion into repairing and renovating our aging schools, as well as building 200 new schools.
We will cap class sizes at 20 from Kindergarten to Grade 12 and hire 300,000 new teachers.
We know that students and staff need more support for mental health and we will hire 100,000 mental health professionals for schools.
We will put EQAO testing on hold for two years and come up with a more efficient way to assess student progress. We will extend Grade 13 for four years, so this cohort of high school students can catch up on the time missed during the pandemic and be better prepared for the workplace or post-secondary education.
We will freeze tuition, double OSAP for college and university and provide $2,000 for students choosing an apprenticeship. We will also eliminate interest on student loans.
All of our Ontario Liberal policies were developed through an extensive engagement process with Ontarians from across the province and involved 25 open forums, 500 consultation meetings with over 28,000 participants and over 38,000 ideas. Our platform: "Ontario, A Place To Grow", has been fully costed and can be read in its entirety on the party's website.

LH: Schools are the heart of our communities. Children and youth have suffered enormous losses during the pandemic. Ford slashed $1.8 billion from classrooms in 2021/2022 and refused to spend money to keep schools safe during the COVID-19 pandemic. The Ontario NDP has a detailed and doable plan to fix what the Liberals and Conservatives broke and invest to ensure Ontario's world-class public education system thrives.
Our plan includes reversing Ford's cuts to help students get back on their feet academically, emotionally and psychologically after a tough few years.
We'll cap classes for Grades 4 through 8 at 24 and hire 20,000 teachers and education workers, which will ensure students at every age get the direct support and attention they deserve. Additionally, we will increase special education funding and base funding on actual needs with timely assessments. We'll increase in-school support by hiring more mental health workers, child and youth workers and other education workers.
The pandemic has shown us we need to better protect our schools and youth.

MVA: Support in-person learning and oppose any move toward mandatory e-learning or hybrid learning models; cap Grades 4 to 8 class sizes to at least 24 students and Kindergarten to at least 26 students; eliminate the EQAO standardized testing and update the elementary curriculum to reduce prescribed student outcomes; increase funding for enhanced outdoor education, green space in school yards and enhanced curriculum content on critical environmental topics such as food literacy and climate change; implement a province-wide nutritious school lunch program.

MK: Our children are our future; the politicization of our public schools has become one of the greatest threats facing our community. The rights and responsibilities of parents are increasingly being infringed upon and ignored. I believe that parents are the primary and most important educators of their children; parents deserve to have input over what their children are learning in school and the rights of parents should not be ignored. Families who choose to home-school should be respected and supported by removing the barriers to doing so.
We need to remove politics and political agendas from our schools and return the focus to core competencies. We need to better promote trade skills and encourage children interested in the trades to pursue them.

GH: The Ontario Party will never lock down children and schools again. Scientific studies proved this is very bad for the long-term effects mentally and physically on both children and adults.
According to the current provincial government's own data, year after year, the math and literacy skills of students in Ontario continue to decline. At the same time, growing numbers of parents are expressing shock and frustration as school time and resources are diverted from the teaching of core academic skills toward "ideological" instruction. Often, such instruction promotes hostility and division based on misleading theories and political ideals.
Parents feel powerless as schools and school boards refuse to heed their calls for reforms. Children feel cheated when they discover they're ill-prepared for higher education or employment. An Ontario Party government will reform the province's educational system from Kindergarten to Grade 12 so that public schools return to their core mandate, ensuring that toxic instruction is removed from the classroom and parents and children have the power of educational choice.
The Ontario Party would allow entrepreneurs, parent associations, and community groups to establish charter schools in Ontario. Unlike private schools, charter schools receive government funding - though significantly less than public schools - and charge no tuition. Charter schools have the freedom to operate in a more streamlined, focused fashion, and can design curriculums meant to promote higher intellectual outcomes and greater success for diverse student populations. The "charter" is the contract between the school and the government that details the high standards the school must meet in order to continue to receive funding. Research shows that charter schools, on average, outperform public schools in terms of meeting or exceeding established educational outcomes. In particular, these same studies show that children and youth from disadvantaged communities experience some of the greatest successes when transferred from a public school to a charter school.