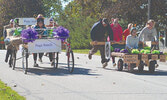 Rutabaga Festival set to return on Father's Day weekend
BY SHAWN LOUGHLIN
On Father's Day weekend, the Rutabaga Festival will return to Blyth after a successful revival in 2019.
While three years have passed since the last festival, the event is now on the Blyth homecoming schedule and will be held every five years.

Things get underway on Friday night with a concert featuring local acts Adam Cousins, a Brussels native, and Weekend Never Ends. Advance tickets to the concert are $20 or $25 at the door. The concert is an event for those 19 and over and there is a cash bar.

Saturday begins with Baga Yoga at Blyth Lions Park at 9 a.m., followed by a vendor and artisan market from 10 a.m. to 5 p.m. at the Blyth and District Community Centre.

The community stage at the arena will feature music and entertainment from 11 a.m. to 5:30 p.m., while the Kids' Zone will be running from 11 a.m. to 5 p.m. at Blyth Lions Park, featuring inflatable castles, popcorn, rutabaga-themed games and more.
The food vendors and beer gardens will also open at 11 a.m. at Blyth Lions Park.

Over the course of the day the rutabaga cooking competition and the baseball tournament will be running on the grounds as well.

The teen ping-pong tournament will run from 11 a.m. to 1:30 p.m. at the community centre and the bed races will run down Gypsy Lane at 2 p.m.

From 5-7 p.m., there is a Pineridge half-chicken barbecue dinner at the community centre, which is take-out only with advanced tickets required.

Also on Saturday, The Baga will be running on the Goderich-to-Guelph Rail Trail, encouraging people to get out on the trail for short or long distances.

For more information and a full list of events and details, visit rutabagafest.ca.