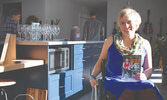 Sawchuk 'shocked, surprised and delighted' with provincial chair position
BY DENNY SCOTT
Accessibility expert Julie Sawchuk was "shocked, surprised and delighted" when she found out she had been named chair of the Standards Development Committee to review Design of Public Spaces Accessibility Standards.

Sawchuk, who lives just outside of Blyth, was struck by a motor vehicle while cycling several years ago, resulting in paralysis from the chest down. The change, she said, led to her using a wheelchair and realizing how inaccessible parts of her own community can be, which led to her becoming an activist for accessibility.

As part of that journey, Sawchuk has published several books detailing her own experiences with accessibility, including her personal challenges and the building of her own home.

"When I had the open house here about residential accessible design and my book launch, [Huron-Bruce] MPP Lisa Thompson had come, and bought several copies, including one for [Raymond Cho] the Minister of Seniors and Accessibility," she said.
Cho called Sawchuk, thanking her for writing the book, and then, six months ago, a staff member in Cho's ministry asked her to make a presentation to a working group about discussing accessibility in rural Ontario.

"That was when I started talking to his staff about [the Design of Public Spaces Accessibility Standards]," Sawchuk said.
She wasn't contacted by anyone in the ministry for six months after that first discussion, however.

"I didn't hear anything, until they got in touch with me about a month ago and asked if I would be interested in being the chair of the review," she said. "I was shocked, surprised and delighted with the offer."

Sawchuk said the committee's work is important because people with disabilities are the only minority group where integration into all aspects of society comes with a price tag.

"All other minority groups are able to be integrated into every aspect of society by changing attitudes," she said. "With people with disabilities, not only do we have to change attitudes and minds about disability, we have to physically change the built and natural spaces."

She said that, throughout history, humanity has built for aesthetics or for function without thinking about minority populations, pointing to stairs as an example.

"They allow us to stack buildings, which is just how we do things, without thinking about the fact that stairs don't work for everyone," she said.
"Really, it comes down to money and that's where I don't like to start," she said.

As an accessibility consultant, she said when she discusses issues with people, one of their first concerns is cost, which is understandable.

"You don't want to pay more if you don't have to," she said. "But in not including people with disabilities, you are segregating, discriminating against potentially 20 or more per cent of the population. People with disabilities are the largest minority group on the planet."
Sawchuk said that number is likely to grow with the world's aging population.

Currently, Sawchuk said the hunt is on for committee members, and that the committee will include 23 to 25 people being selected by herself and ministry staff.

"They will be selected from across the province and from a variety of interest groups in terms of industry, municipality representation and disability organizations," Sawchuk said. "More than half of the committee will be people with disabilities."
She said she is very excited about the first meeting because, as a storyteller herself, she is looking forward to seeing people share their experiences because that will lead to a better understanding of the responsibility of the committee.

The review had initially been identified as a year-long process, but due to the provincial election, she anticipates it will take a year and a half. At the review's conclusion, the committee will put forward a list of suggestions for public input. The suggestions will then be revised and forwarded to Cho (or whoever is in his position when the review is complete).

Sawchuk believes the committee will have many suggestions, but that's all they are, because the minister, after receiving input from ministries that will be impacted like those responsible for municipal affairs, housing and commercial affairs, will decide what to put forward.
"As much as I'd like to say everything we suggest should happen, that's not likely the case," Sawchuk said.
"I've got big plans," she said. "I will do my damndest to make everything happen that we can."

Sawchuk said there is a lot of work to do with the review, but, based on her research, much of it has to do with enforcement of the Accessibility for Ontarians with Disabilities Act (AODA).

"It's not the regulations themselves that need to be modified to any great extent," she said. "The size of parking stalls, the slopes of sidewalks, the widths of paths of travel in a public park are all where we need to be. It's not the numbers or the specifications that need to be overhauled, what needs to be overhauled are the requirements for implementation. That is where the biggest amount of work and discussion is going to happen."

Sawchuk said that "grandfather clauses" on structures and spaces that were built prior to the most recent updates to the AODA mean changes don't need to happen, even though the sites may not be up to code.
"What it means is a building can not be accessible, and there are no laws that say they have to be," she said.

When asked if she ever saw herself in such a position in the early days following her injury, Sawchuk said she had no idea.
"In my early days, after the accident, I maybe had dreams about participating in a sport with a disability," she said, "likely some kind of parasport. I wasn't looking at accessibility. It really was part of coming back to my community and feeling what inaccessible spaces felt like and knowing how ridiculous it can be that set me on this path. I thought, 'Somebody's got to do something about it.'"

Sawchuk says she has a different view on accessibility from even other individuals who have been disabled most, if not all their lives.

"I lived 41 years of my life without a disability and, in the blink of an eye, everything changed," she said. "I was thrown into the world that I thought I knew about, but I now realize I knew absolutely nothing about. I am living in a disabled body, but with all the privilege that came with me being an educated, white woman who was employed and has benefits. I was hit by a car, which is an insurable accident which meant I had money to help with my recovery."

She said many people with disabilities don't have the advantages she did when she started her recovery, so she wants to leverage that influence to foster change.

"I feel privileged that people are listening and honoured that people are listening and I feel the need to keep doing what I'm doing because it is working," she said. "It is slow and painful, but one person at a time, we can make a difference."
She said when she discusses these issues with people, she can see when their minds change.

She also said that she has the energy to pursue these kinds of changes because others who face disabilities may not.
"Living with a disability sucks energy out of your life," she said. "Some of the privileges I have may restore some of that, giving me the chance to make this difference."