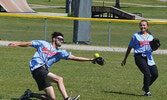 Scaled-down Rutabaga Festival set for June 3 in Blyth
BY SHAWN LOUGHLIN
The Rutabaga Festival is back after a successful return in 2022 for a scaled back event set for Saturday, June 3 in Blyth.

The festival will consist of a touch-the-truck event at the Blyth Campground, with 10 pieces of machinery already confirmed (pending farm availability), and a ball tournament organized by Huron County Slo-Pitch. For the tournament, 12 teams are already confirmed, so a third diamond has had to be rented to accommodate the sheer volume of games that will be played that day.

Theresa Kolkman of Blyth Community Betterment said the group is happy with the response so far for the smaller event. The plan is to have bigger rutabaga festivals every five years to coincide with homecoming years in Blyth, with smaller events to take place on the off-years.

The Blyth Lions Club will also be hosting its annual Seed Sowers steak dinner that night, as well as a beer garden at the Blyth Lions Park that will fit in nicely with the festival.

Kolkman's son Ben is organizing the touch-a-truck event and she says he's been happy with the response he's received.
She says the group is small, but mighty with just under 10 members of the group taking on projects like the Rutabaga Festival, the Santa Claus parade and the New Year's Eve fireworks, which is why a full-scale Rutabaga Festival on an annual basis is just a bit unrealistic. The members, however, are doing their best to keep momentum going and raising funds for their events, which they're planning to do on July 29 with a fish fry with the help of the resident fish friers at the Brussels Legion.

For more information on this year's Rutabaga Festival offering, follow the event on Facebook.