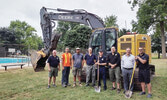 Seaforth group breaks ground for new splash pad
The Seaforth splash pad initiative reached a landmark point in its fundraising, breaking ground on the infrastructure to support the new splashpad at the Lions Park in Seaforth on Monday, July 18.

Established in the fall of 2021 as a collaboration between the Seaforth Lions Club, local business community, and the Municipality of Huron East, the Seaforth splash pad initiative has been working diligently to raise $350,000 to bring the community a long desired splash pad. With the help of Van Driel Excavating and Elligsen Electric, the splash pad excavation, waterline, drain line and electric infrastructure will be complete this week.

"It is a great day for the residents of Huron East to see this project nearing completion," noted Bryan Vincent, president of the Seaforth Lions Club. "We are working hard to open the new splash pad this summer, but we still need additional funds to make that happen."

Once the groundwork has been laid, Janet Elliot and her team from OpenSpace Solutions will be enabled to install the actual splash pad pipes and pumps prior to the concrete pad being poured. From there, feature installation and testing will occur before opening to the public.

The Seaforth splash pad initiative is accepting donations as volunteers work towards completing this project. Donations can be made via e-transfer to seaforthlionsparkandpool@gmail.com, on their Facebook page at www.facebook.com/seaforthsplashpad or via phone by calling 606-525-2189.