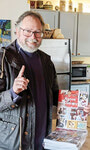 Seaforth's Scott pens Huron County hockey compendium
BY DENNY SCOTT
Seaforth author David Scott has spent the last five years of his life writing and decades before that planning Huron County Hockey Heroes, a codex of the most successful ice hockey players and professionals from the area.
During his time as a reporter in the south end of the county nearly 25 years ago, he realized that Huron County is responsible for an inordinate number of professional hockey players, coaches and support staff. He wanted to codify these stories, but the project was shelved for some time after that.
Over the last five years, however, he decided the book needed to happen for several reasons, not the least of which being the number of people who are already a part of it and how many more would likely be coming.
Scott explained that, with trying to get every hockey player from Huron County who played in Junior B level or above, including college and semi-professional leagues, there are a lot of professionals to include in the book.
He chose Junior B because he says it's similar in calibre to Junior A. "Junior B is so close to Junior A," he said, adding the stories are worth being told.
He said he wanted to make sure to shine a light on lots of players, not just the National Hockey League alumni or the Hall of Famers, though he says they are included in the tome as well.
He said that, as of two years ago, he had 200 people on his list, which includes players, officials, coaches and other hockey personnel.
Scott is originally from Seaforth, which has been a hotbed for local hockey heroes over the decades, generating far more professional-level players than a centre its size could be expected to, he said. "There are so many NHL players there," he said.
He pointed to a number of those players, as well as hockey officials and coaches who call the Seaforth area their home as proof that Huron County treats hockey not just as a pastime, but as a passion and as a brand, saying the county's two best exports are hockey players and agricultural products.
"It's important to tell these stories," he said. "I knew some of these people growing up, but less than half, so it was interesting to learn about all of them."
Scott said there are numerous families who appear in the book featuring multiple entries, like the Peters family from Blyth, which has produced numerous hockey players.
The book includes statistics for the players, but Scott wanted the focus to be broader than that and talk about the people behind those facts and figures.
While he wasn't able to interview everyone, Smith said he did try and contact as many as possible and include information from edited interviews.
"It's not just stats, but they are there," he said. "I wanted to make it as anecdotal as possible."
Aside from the hockey players and professionals who come from the area, Scott said there is plenty of interesting local history that ties to other professionals, highlighting Lucknow's Paul Henderson playing for the Junior B team in Goderich and 12-year-old Wayne Gretzky scoring his 100th and 101st goals of the season during Young Canada Week, also in Goderich.
"People are surprised by the names," he said, adding that players who had played or coached college hockey and won NCAA championships are also numerous.
The codex goes back to names that people may not remember, making it a combination of local history, sports and a reference book, Scott said, that will appeal to a number of people.
The book is arranged alphabetically by surname, as Scott wanted to make sure there was no discrimination between levels of play or roles in the sport.
The first run of Huron County Hockey Heroes has started with 1,000 copies being printed, which was a challenge during the lockdown, Scott said. Currently they are available from stores in Blyth and Seaforth, including the offices of The Citizen.
For more information, follow Huron County Hockey Heroes on Facebook.