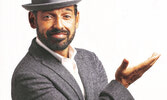 Shaun Majumder looks ahead to Wingham, Harriston shows
BY SCOTT STEPHENSON
It's not often that an icon of Canadian comedy comes to Wingham, but that will change on Thursday, March 23, when Shaun Majumder takes the stage for his one-man show at Wingham's Town Hall Theatre.

The Citizen caught up with Majumder via telephone this past week in anticipation of his upcoming performance. It was an early morning call for the Los Angeles-based comedian and actor, but he had the energy, clarity and affability of a person speaking on the phone in the early afternoon.

Majumder got his start crawling from the slime-soaked crucible of Canadian children's television that is YTV, before moving on to hold court in the nation's most venerable comedy kingdoms. He spent many years churning out laughs as a writer and performer for This Hour Has 22 Minutes, and has hosted numerous television specials recorded at the Just For Laughs Comedy Festival in Montréal. He has also had many memorable roles in film and television.

Most recently, the funny man has taken a turn for the dramatic as Father Khatri in the gory sci-fi hit FROM, which just got picked up for its second season. The show is a tense, super-violent and mind-bending binge for children of all ages to enjoy (not actually recommended for children), and Father Khatri is easily one of the best characters.

Even more "most recently," and the reason for his sojourn to Wingham, is his ongoing "The Love Tour," which is a show about looking inward, questioning his decision-making and being an old, new dad.

"I'm so excited. I've never been to Wingham before. You know that feeling of anticipation when Santa's coming, that child-like excitement in your belly, that's kind of how I feel," the self-proclaimed slime master stated on the public record. When working with his tour manager to decide on places to stop for shows, Majumder is always searching for unique venues that can be overlooked. "I really want to go to the kind of markets that are a little bit outside the main markets," he said with enthusiasm. This time, they settled on Wingham and Harriston to bookend his upcoming Casino Rama show with fellow Canadian comedian and actor Brent Butt. However, small town touring is not without its tribulations, Majumder went on to explain. "I don't know how Wingham compares to Harriston - that's the problem. Who will be the more gratifying experience - will it be Wingham, or will it be Harriston? That's what makes it exciting, you just don't know."

Coming from the very small town of Burlington, Newfoundland (population 350), Majumder understands that size is a very relative thing. A small town to some is a big place to others. "The one thing I feel is universal, is when you get into a room, when you get into a theatre, the theatre becomes a small town. You're never going to get more than 10,000 people in a theatre, that's very rare. When you're in a small room, you're in a municipal town hall meeting." What better place to showcase his comedy stylings than the Wingham Town Hall Theatre, current venue for meetings of the Township of North Huron's municipal council?

Even if the venue is in a large city, an intimate space creates connection. "The community happens within that small place, whether Edmonton or Toronto, or St. John's Newfoundland, or Wingham, or Harriston."

The Love Tour is a follow up to his pre-pandemic "Hate Tour," which was an exploration of the mayhem of the era of former U.S. President Donald Trump. For Majumder, that was really a social commentary on "the confidence in one's hateful self, to be able to put themselves out there… and feeling okay to be nasty and spread their hate." He feels people are ready to move beyond the chaotic past few years."Chaos seems to be the order of things these days, but it feels like it perpetuates an anxiety for the human mind, and for the human species… sometimes, when you're in this chaotic madness, whether it be COVID, or wild times, or even in FROM, you're left with this feeling, like what's the point of the struggle? I think a lot of people have felt that over the last three years." Majumder's solution? To stay positive, and to keep in mind that struggle always ends in growth. "Unless you die in the struggle," he adds.

If you're looking to escape the madness of the last few years, check out this genuinely funny gentleman at the Wingham Town Hall Theatre on March 23.

Tickets are available at www.shaunmajumder.com or www.ticketscene.ca/events/43190/.