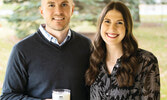 Sparlings launch Canoe Candle Company in Blyth, online
BY SHAWN LOUGHLIN
Blyth's Grant Sparling, alongside his wife Kaylin, have created Canoe Candle Company, hand-pouring premium soy candles in Blyth.

In an interview with The Citizen, Sparling describes the project as a fun one he's able to take on with his wife. Inspiration struck when he was seeking a candle that would replicate the smells he remembered from hiking in the White Mountains of New Hampshire. When he couldn't find what he was looking for, he sought to create it himself.

The pair has been working on the project for the last six to eight months. Grant and Kaylin enjoy burning candles in their home and they started hunting for safe, clean-burning candles. Between underwhelming results for that hunt, as well as the search for the aforementioned scent, they began learning about making their own candles and, through some trial and error, arrived at a place where they wanted to share what they had developed with the rest of the world.

After learning all they could about the candle-making process and conducting over 100 tests, they found what they were looking for. Canoe candles are small-batch candles created with paraffin-free North American soy wax with phthalate- and paraben-free fragrances. The wicks are braided cotton, free of zinc or tin cores, as well.

The company now has eight varieties of 10-ounce candles available on its website. Fir and pine is the scent Sparling was hunting for in the first place, classified as the company's signature fragrance. There is also patchouli and sandalwood, bourbon and vanilla, neroli and driftwood, linen and tangerine, jasmine and lily, lemon and ginger, geranium and coriander, clementine and cedar, and unscented.

Sparling said that, after developing the fir and pine scent, they wanted to hone in on a number of other scents that would tick a lot of boxes and leave something for everyone, including staples like citrus, floral, more masculine scents and others.
The early response to the company and its offerings has been excellent, Sparling said, with a lot of encouragement, compliments and early purchases already rolling in.

Locally, Greyhaven Gardens in Londesborough will serve as the local retailer of the candles, in addition to the primary online shopping option at the company's website.

Sparling says the company also offers customized labelling for orders of 24 or more candles that can be used by corporations or as wedding favours, which is how the couple debuted some of their earliest candle-making efforts as favours at their own wedding celebration.

For more information, visit canoecandleco.com.