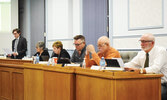 Teen Huron East Councillor looks to the four years ahead
BY SHAWN LOUGHLIN
Nineteen-year-old Justin Morrison of Brussels has returned to office in Huron East, via acclamation in October's election. As one of the youngest councillors in the province - if not, the youngest - Morrison says he's excited for the four-year term ahead.

In an interview with The Citizen, Morrison said that, when he put his name forward in late 2021 to fill the Brussels Ward Councillor position of John Lowe on Huron East Council, he did consider running for a full term in 2022. However, he thought the experience of being a councillor for just under a year would provide him with just the right amount of time in the position to know whether he wanted to pursue a full term.

He said he'd kept an open mind to running again for a council position and, when the time came, he put his name forward again, wanting to continue serving the people of Brussels and all of Huron East.

Morrison said he received a good education in the world of municipal politics over the course of the eight months that followed his first meeting in January and the experience he garnered over that time helped inform his decision to run again.
When he was sworn in as a councillor for the second time, in November after being acclaimed, he said he wished there had been an election in Brussels. Without receiving that feedback from the community, Morrison said it's hard to know if he's doing a good job for them. However, he says he's committed to the position for the next four years and intends to do the job to the best of his ability.

Before the current term, Morrison said he had spoken with residents out on the street and much of the discourse was positive, which he found encouraging.

In his time as a councillor, Morrison says he's learned a lot about municipal drains and their importance throughout Huron East. Furthermore, he's also received an education in the inner workings of the municipal office and how a municipality runs behind the scenes. He said both have been quite eye-opening to a young council member.

From a personal perspective, Morrison said council and staff have been very welcoming to him, despite the noticeable age difference between him and other councillors. Most councillors in Huron County's lower-tiers are in the later stages of their lives and, even among younger councillors, Morrison stands alone as the only one in his teens (he turned 19 just last month after turning 18 mere days before he filed to fill Lowe's position late last year, making him one of the youngest people to ever hold municipal office). He said everyone at Huron East has worked to make him feel welcome and, at no point has he ever been made to feel as though he's an outsider.

On the contrary, council has worked to leverage Morrison's youth and unique skills, asking for his input on things like the municipal website, communication and social media engagement.

In the four years ahead, Morrison says he doesn't have many individual goals, but rather council goals and issues that will need to be tackled within Huron East in the coming years.

One of the first issues he and council hope to take on is the aforementioned communication between the town hall and Huron East residents. He said he was surprised to see how many people claimed they hadn't heard about the municipality's council composition committee when that process was ongoing, or even about the municipal election. He said the municipality needs to do a better job of getting the word out to residents, but that's a tough job that many municipal governments struggle to do well.

He also wants to see improvements to the municipality's website, making it easier to navigate, among other things.
He also noted the economic state of the Brussels downtown, which he's hoping he and council will be able to improve during the coming term and he knows he's not alone in wanting to lend a hand there.

Aside from those points, he said he's really just looking ahead to doing the work of Huron East Council for the next four years, serving residents and helping to solve their problems.

Morrison and the rest of Huron East Council were sworn in for the 2022-2026 term on Nov. 15. Morrison is joined by newcomer Jeff Newell as the two Brussels Ward Councillors after Councillor Zoellyn Onn chose not to seek re-election this year.