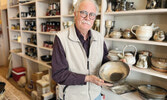 Tetu collects eight renowned potters for Blyth Festival Art Gallery show
BY SCOTT STEPHENSON
This week, The Citizen set out for Seaforth, seeking Robert Tetu's bucolic Beechwood Pottery studio for the fourth installment of an interview series on the Blyth Festival Art Gallery's 2023 season. Tetu is curating an exhibition of eight renowned potters that will take over the space at the Bainton Gallery in Memorial Hall on July 21.

Unlike the other artists being featured by the gallery this season (Lucknow photographer Hannah Dickie and Blyth-based artist Kelly Stevenson), Tetu's online presence is scant. He does not have a Facebook page. Beechwood Pottery is not on Twitter or TikTok. Tetu doesn't even have a web page. Of course, there are brief biographies on many of the websites of the permanent collections around the world that house his work, and there are the interviews he's done while curating eclectic exhibitions, or showing his own pottery, but those things only tell you so much. A lack of social media makes researching a subject harder, and going into a situation with little information can be a bit intimidating. What information is available is also a bit intimidating - Tetu went to Ontario College of Art and Design University (OCADU) when it was still Ontario College of Art (OCA), and has been making unique pottery out of his Seaforth studio since 1975. He has work permanently displayed in the collection of the Government of Brazil, and has won three Ontario Craft Council Design Awards for his functional art.

Much less intimidating is the charming front porch of Tetu's beautifully restored home and studio, surrounded by farmland, which he shares with his wife Cora de Vries. In a previous life, the space had been Seaforth's general store, and one can feel that history in the home's many charming details. The turned spandrels and sun ray brackets of the side porch are just a few of the little, elegant details on display that one would expect from such a regal Victorian farmhouse.

Slightly less expected of such a regal Victorian farmhouse is the propane-powered kiln that can get as hot as 1,200 degrees Centigrade, or 2,400 degrees Fahrenheit. That addition was all Tetu. While a tour of the studio and kiln was certainly part of the interview, the majority of our conversation took place in the welcoming warmth of the home's kitchen.

We began at the beginning. Robert Tetu dropped out of OCA after two years due to frustrations with the rigidity of the school's academic side, an experience that almost kept him away from the wheel forever. "The first ceramics class that I took at the Ontario College of Art turned me so off it that I thought I would never touch a piece of clay again," recalled the artist.
After leaving school, he briefly pursued more commercial pursuits, working in newspaper advertisement sales in Galt, Ontario before moving on to managing promotions for Ontario shopping centres. He quickly realized this was not the life for him, saying "I could do the work, but I didn't like doing it."

Around that time, a friend of Tetu's asked if he wanted to tag along to a pottery class, and he was instantly captivated. Just a year and a half after that first class, he started searching for the perfect place to build a very particular type of kiln. "By using a fuel-burning kiln, you can adjust the amount of oxygen that's in the environment inside the kiln," Tetu explained from his seat by the fire. However, this dream machine came with its own set of complications "There's a lot of electric kilns around, and you can basically put them anywhere, but a gas kiln in a built-up area has to be in an industrial zoning. But that doesn't apply to places out in the country like this."

Enter the old Seaforth general store. Tetu explained how he chose the location, saying "I love Victorian architecture. I like the countryside. And I was one of those back-to-the-landers, and I wanted to have a garden, and chickens, ducks, and pigs." When Tetu took possession, the building had been derelict for five years, though you could never tell from its current sunny facade. Prior to being derelict, the store hadn't been used commercially for over 15 years, and it needed a lot of restoration work. Things like the furnace, water pump and septic system all had to be replaced, but there was also a lot of good news. "The roof, windows and structure of the house were all intact… I had some very, very good friends who had skills, and they were happy to teach me." Tetu learned electrical skills, different styles of woodwork, and how to handle woodcutting equipment and he was able to repair and restore the building at a relatively low cost, over 23 years. There is a store again - open by appointment, by whim, or during the studio's annual holiday sale, which is not advertised beyond an internet mailing list of those already in the know. Tetu considers himself retired - sales are not his priority.

Of course, the most important addition was the aforementioned kiln, the extreme temperature of which is essential to Shino ware - Tetu's current favourite technique and the subject of the upcoming group show he's curating in Blyth. Shino is a type of glaze that has been used in Japan since the 16th century, but has become very popular around the world, prized for its unusual properties and striking, unpredictable results. "The glaze itself changes during the firing, a lot, and you basically have only a little bit of control over what that glaze is going to look like when it comes out… Shino can go anywhere from white, to light grey, to tan, to rusty orange, to black." There are many factors that affect each piece's final appearance, including its position in the kiln, the internal temperature, even the weather outside. Carbon trapped in the kiln creates black, grey, and red dots when it happens to make contact with the quixotic glaze. This lack of control has always been part of the appeal. "If you have a set of Shino dinnerware, for example, you can have a lot of variety in it, but it all goes together beautifully." Tetu makes Shino ware tea sets, as the first Japanese potters of Mino Province did, but he also makes piggy banks, butter dishes and coffee cups.

The artist then went on in greater detail about the upcoming Shino ware exhibition. "I'm very happy it's going to start," he said. There is a great mix of esteemed Canadian artists, from the influential Bruce Cochrane to the impeccable pottery legend Liz Willoughby. Since the pandemic has delayed the show repeatedly, one of the original artists has since retired from showing and been replaced by another. An additional change is the inclusion of some wood-fired pieces along with the original Shino works.

The show opens on July 21 at the Bainton Gallery, and runs until Aug. 12. Stop in to see some modern examples of a traditional pottery technique, and perhaps you will find some little, elegant detail there to take to the place you call home.