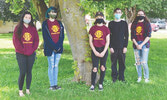 The Brussels Leo Club is moving ahead with a new dog park
BY DENNY SCOTT
After the success of the club's playground at the Brussels Conservation Area, the Brussels Leo Club is turning its sights on a park for different kinds of patron: dogs.

The club recently gained support from Huron East Council for plans to build a dog park near the corner of Flora and Turnberry Streets, beside Richmond Square (across from the Brussels Post Office).

Members of the club spoke to The Citizen last week to talk about the project and how it will proceed.

The project, which is set out in three phases, will start this September with the infrastructure of the park, including fencing and stations for refuse bags, as well as signage for rules in the park.

The second phase will include the implementation of a water fountain, for which the club has already been raising funds. The fountain will be a multi-species unit with different spaces for both dogs and humans.

The final phase will focus on beautification, including landscaping and the installation of picnic tables and benches.
The members of the club, after explaining the phases, said the project is expected to cost between $27,500 and $30,000, with over $7,000 already having been raised for the water fountain project.

Brussels Lions Club President Zoellyn Onn, who also leads the Leo Club, filled in some of the information on the project and the club, saying that the organization is in a good financial position to tackle the project, despite some of the setbacks of the COVID-19 pandemic.

She said that, after the success of the club's playground, the group felt it could tackle any project it set its sights on. Onn said that a dog park is something that had been suggested for the community for years.

The dog park will mark the fifth major project the organization has taken on since it was formed in 2013. The club first worked towards the Brussels, Morris and Grey Community Centre Sports Pad, which was installed in 2015. The pad is used for road hockey, basketball, tennis and pickleball, alongside other activities and is available year-round.

Following that, the club funded a new bike rack at the Brussels branch of the Huron County Library, then painted the equipment at the Brussels, Morris and Grey Community Pool playground. Finally, the fourth project was the playground, one of the most ambitious, that saw four new pieces of equipment erected at the conservation area, making an accessible spot for the village to use.

For more information on the projects, visit brusselsleoclub.com.