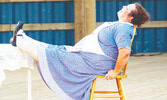 'The Downs' welcomes audiences to Blyth's new Harvest Stage
BY SHAWN LOUGHLIN
It's difficult to review The Downs, the Blyth Festival's return to live theatre at the outdoor Harvest Stage, without folding in the entire experience, which will be new to Festival audiences.

Sheryl Scott's heartfelt, warm and welcoming one-woman show about a farming wife and mother in rural New Brunswick living in the 1950s is well-known to Festival audiences. It sold out two runs at the Phillips Studio in 2017 and 2018 and, in many ways, it was the perfect means by which to welcome theatre audiences back to Blyth.

Scott plays Millie Johnson, the mother of five girls and one boy. She is a born storyteller and a lover of life and at the beginning of the show she welcomes the audience into her kitchen as she folds some of the day's laundry.

After having a good sit - the audience, after all, is sitting, so shouldn't she too take a load off? - she spins tales about her life. She talks about her husband, her children, her church, her community and her endless list of chores around the house and the farm, all with the warmth and hospitality you might expect from a rural homemaker in 1950s New Brunswick.

She wants those in the audience to feel at home and it's easy to feel at home at the Harvest Stage, a beautiful setting for the Blyth Festival. You have to think that it has exceeded the expectations of even Festival Artistic Director Gil Garratt in its beauty.
Indeed, Garratt was choked up on opening night of The Downs as he welcomed audience members back to live theatre in Blyth. He explained safety protocols - including physical distancing, mandatory masks, respect for others, etc. - but then he called the Harvest Stage not a theatre, but rather more of a mechanism through which community is built. After nearly two years without live theatre in Blyth, he said, it was moving to see that community being built back up again.

Scott's Johnson is all about community. Her world is small, not unlike Blyth or any of Huron County's other tiny communities. There are farms, there are churches and there are "trips into town", which might as well take a whole day. Mostly, there are the people. Johnson talks about the people at her church, her neighbours, her friends and her family, especially her husband and their six children. Some people are loving, caring and supportive, while others are a bit more divisive, judgemental and cruel. They are all part of the tapestry of a community and we can all relate.

Scott is funny, relatable and, at times, heartbreaking as she portrays Johnson, a woman she has been embodying for a number of years now. The Downs began as a short audition sketch that grew into a short show at the London Fringe Festival before she fleshed it out into a full-length show. The show's heart is as big as that of any Festival show in recent memory, which is why it feels like the right way to ease back into the world of live theatre in Huron County.

It's different. You're wearing a mask and you're surrounded by other people wearing masks. You're not rubbing shoulders with the stranger next to you and you're not in Memorial Hall, you're outside, where you can hear the wind rustle through the nearby trees and the sound of crickets and camping children playing faintly in the background. And it's hot. But then, the sun starts going down and it turns cool. That first show needs to make you feel comfortable and Scott and director Desiree Baker do just that in the simplest of ways; without even having to try.

The show is excellent, just as it was in its first two runs at the Blyth Festival. Seeing it on the new Harvest Stage, however, after all that has happened in the last 18 months, comes with a greater resonance. It just "hits different" as the kids on social media might say.

After the show, as the sun set over the trees to the left of the stage with a brilliant pink glow, most audience members took their time leaving, looking back to admire the Harvest Stage, illuminated with hanging bulb lights after the show or to photograph the sunset with their phones.

Knowing that the Harvest Stage will be part of the Festival picture for years to come, rather than a temporary delivery method for theatre in the era of COVID-19, made last week's slate of shows feel important; like the start of something great. Scott and The Downs was the right show to usher in that new era in a community like Blyth.

The Downs is on stage until Sunday, Aug. 22 with five shows remaining (daily from Wednesday, Aug. 18 to Sunday, Aug. 22).