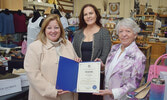 Thompson honours Snell for over 60 years in business in Blyth
BY SCOTT STEPHENSON
Ontario's Minister of Agriculture, Food and Rural Affairs Lisa Thompson paid a special visit to The Old Mill just south of Blyth on Friday, March 24. Thompson presented a certificate to Glenyce Snell, founder of the historic business, in honour of her remarkable achievement of 62 years in operation.

Snell's journey to success began after she graduated from the University of Western Ontario in 1960. At that time she would pack her vehicle with leather garments and apparel, travel across a vast territory, stretching from Owen Sound to Sarnia, and sell her wares. With an unwavering commitment to delivering high-quality products at affordable prices, Snell has managed to keep her business thriving for over six decades.

When Snell first opened a store in Blyth, many people doubted her ability to succeed. Even her own father expressed skepticism, telling her, "nobody will come to Blyth." Despite these doubts, Snell remained determined to make her business a success. Drawing inspiration from popular factory outlets in the United States, Snell believed she could replicate that success in Ontario and built her business into a destination for shoppers from all over the province.

Snell credits advertising efforts for the business's longevity and fondly recalls attending trade shows in France and England to stay up-to-date with the latest fashion trends.

Snell's success at The Old Mill was not achieved alone. Her late husband Richard was her partner in business and in life, and together they grew The Old Mill into the thriving enterprise it is today. Thompson quipped, "Behind every successful woman is a supportive husband."

Thompson went on to commend Snell's achievements, stating that the dedication and hard work she has put into her business have helped make Ontario's rural economy strong. During her university days, Thompson found weekend employment at The Old Mill to help fund her studies.

As Snell enters her seventh decade in business, she has begun to step back from day-to-day operations at The Old Mill. But the business remains very much a family affair, with Snell's daughter, Amanda Aitken, taking on a leadership role in the company. Snell says Aitken is, "the heart of the business now."

Despite her reduced workload, Snell remains a very active presence in the store. She can often be found greeting customers, offering advice on fashion choices, and sharing stories about her long and successful career in the retail industry. And while she no longer has to work as hard as she used to, Snell's passion for the business has not diminished in the slightest.

As Aitken takes on an increasingly important role in the company, she carries on the proud tradition of excellence that her mother and father built over many decades. And with Snell still an active presence in the store, customers can rest assured that The Old Mill will continue to be a beloved fixture in the community.