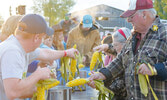 Thresher Reunion cancelled, 60th anniversary set for 2022
BY SHAWN LOUGHLIN
For the second consecutive year, the annual reunion of the Huron Pioneer Thresher and Hobby Association has been cancelled due to the COVID-19 pandemic.

Association President Judy Sloan said the decision was made on June 8 by the executive. While the group had been hoping to host a modified event this fall, she said it was quickly becoming clear that it would be too challenging to manage the logistics of hosting the event while the pandemic will likely remain active.

She said the health, safety and well-being of members and those who might attend the event is paramount and it played a large role in the decision to cancel the event for 2021.

Sloan said the slow pace of the provincial reopening has made it difficult to plan for an event in September. If there are any hiccups or delays along the way, she said, it could cause major issues with the planning process.

After consultations with Huron Perth Public Health and a number of other agencies, Sloan said no one could predict how many people would be permitted to attend an event in September and what kind of regulations would be in place.

While the vaccination rate has been encouraging, Sloan also cited the advanced age of many volunteers and attendees as a reason for extra caution.

And while the traditional reunion, which would have been the 60th anniversary reunion, will not be held this year (plans for the anniversary celebration will be shifted to 2022), Sloan said she hopes the association will be able to hold some events later this year to keep momentum going heading into next year.

She said there has been some discussion about a drive-by event with some machinery on display, or maybe even an antique car display. Members have wondered about hosting a musical performance, but Sloan said the logistics will likely prove to be too tricky.

She also said that Joe Hallahan's tractor parade, scheduled for later this month, is also moving ahead. It is a safe way to keep the organization visible while the pandemic drags on, she said.

In addition, the organization is also moving forward with its Heritage Book for the year and accessibility upgrades in the washrooms at Shed 3 (with the help of North Huron Council).

Plans for the 60th anniversary reunion of the Huron Pioneer Thresher and Hobby Association will now move full speed ahead for the fall of 2022.

For more information online, visit blythsteamshow.com.