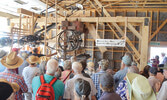 Thresher Reunion returns to Blyth to much fanfare
BY DENNY SCOTT
With the exception of a quick downpour on Saturday, even the weather helped the Huron Pioneer Thresher and Hobby Association return to its annual reunion after two years of modified events due to the COVID-19 pandemic.

Association President Judy Sloan said the event went really well.
"It was wonderful to be able to be out and have people come out to the event," she said. "Everyone who was here wanted to visit with people they hadn't seen in a couple years and reconnect with old friends," she said.

While there were fluctuations in attendance in some programs from 2019, the last year the association could hold a full-fledged reunion, Sloan said that gate attendance was on par with that year. Camping was down to 417 sites being used and participation in some events, like the fiddle and step dance competitions, had dropped a little as well, however Sloan wasn't concerned about the change.

"We expected some absences with people's situations changing over the last three years," she said. "We also had some people pass away."

Other programs went over very well, she said, including a re-worked passport program for children which she said was well-received, and a new educational program for local schools, Sloan said.

The music programs were also well-attended, Sloan said, especially the Saturday night concert with the Lucky Charms.
"It was out of this world," she said. "The attendance was huge."

She said that, on top of the 180 chairs that had been set out for the concert at the Harvest Stage, there were people sitting in their own chairs on the grass and people enjoying the music from their trailers as well.
"It was wonderful and very well received," she said.

While the concert had been an addition intended to attract some younger audience members, she said it was an all-ages event with people from every age group enjoying the music.

Other aspects of the music program were also changed this year, with some performances being moved from the main stage to other parts of the grounds, Sloan said, and the effectiveness of the move is being reviewed by the association's executive.
The dances held in the upper hall of the Blyth and District Community Centre, for example, saw a dip in attendance, she said, but that could have been due to the beautiful weather that had people attending impromptu jam sessions throughout the camping sites.

The association was also pleased to finally unveil, after years of work, the antique cider press in the Memorial Shed, Sloan said. After some initial issues with a green crop of apples, the press was running great later on Friday and throughout demonstrations on the weekend.
"It was very well received," Sloan said. "It was tough to find a spot."

She said there was also a video being produced of the press in operation for those who couldn't get in to see it.
Beyond that, she said that most of the traditional attractions went forward, including the vendor sales in the arena. One missing attraction was the bean pot, she said, however the association has already found people to run it for next year.
Following up on the food discussion, she said that the food trucks that had been lined up for the grounds didn't operate as the association thought they would, with some not being able to attend all weekend, so they will look at possibly changing that next year.
"There was a big learning curve there," she said.

While the number of campers was down, organizer Herman Mooy said the event was still a tremendous success.
"We got a lot of positive comments," he said. "Some people said they had never been to a fair that was so well organized."

TRACTORS AND ENGINES
As with every year the reunion has been held, there were a number of equipment owners recognized for the efforts put into keeping the antique machinery running. With 175 tractors, 12 plows and seven steam engines on site, the judges had a difficult job.

Awards were as follows:
• The Billy Joe Hallahan Memorial Award (Best Restored Tractor 1951 and up): Wayne Eggleston of Goderich for his 1951 Cockshutt.
• The Jack Arthur Trophy (Best Restored Tractor 1910-1930): Charly Roadhouse of St. Marys for a 1912 Rumley.
• The Best Restored Feature Tractor (John Deere): William Pentland for his 1934 John Deere GP.
• The John Ellacott Trophy (Best Restored Tractor 1931-1950) Doug Ross of Wingham for his 1943 Farmall M.
• Steam Engine: Mary and Kevin Forstner with their 1914 17 horsepower George White Steam Engine.

ENTERTAINMENT
Gladys Van Egmond, who is responsible for the entertainment at the grounds, said that music performances and activities across the grounds saw varying degrees of success thanks to the emcees who volunteered their time and knowledge. From the jam sessions early in the week, run by Albert Walter and Annie Pritchard, to the fiddle workshop run by Bruce Woods, there were plenty of opportunities for people to hone their skills and enjoy some music.

The fiddle competition on Saturday afternoon brought out 15 competitors. Winners from the event included, in order of finishing:
• 70 years old and over: Richard Sequim of Alban, Ken Huckins of Teeswater and Jim Dolmage of Lion's Head.
• 50 and over: Janice McGinn from Brantford, Jane McVeigh from Waterloo and Carol Wheeler from Markham.
• 12 and under: Tiffany Clerand of Listowel.
• 18 and under: Brady Medvie from Welland.
• Open: Al Widmeyer of Goderich
• The youngest performer was Clerand of Listowel, while the oldest was Alec Aldcorn of Badjeros.

The step dance competition brought out a number of individual and team performers. Winners were as follows, in order of finishing:
• Nine years old and under: Sibheam Faria from Brantford, Eden Goodwin of Stratford and Lucy Abeid of London.
• 12 and under: Claire Jardine from London, Natalie Dutekow from London and Michael Jardine from London.
• 18 and under: Kensington Ischew from Stratford, Ellie Shantz from Stratford and Julie McEvoy from Stratford.
• 19 and over: Rita Hickey of Brampton and Janette Dutekow of London.
• Open: Kerry Fitzgerald of Peterborough and Charlotte Clare of Guelph.
• Junior Group: Reel Thunder of Teeswater, Four on the Floor of Stratford and Can't Stop the Feet from London.
• Open Group: In Step from Stratford and Reel Rhythm of Teeswater.